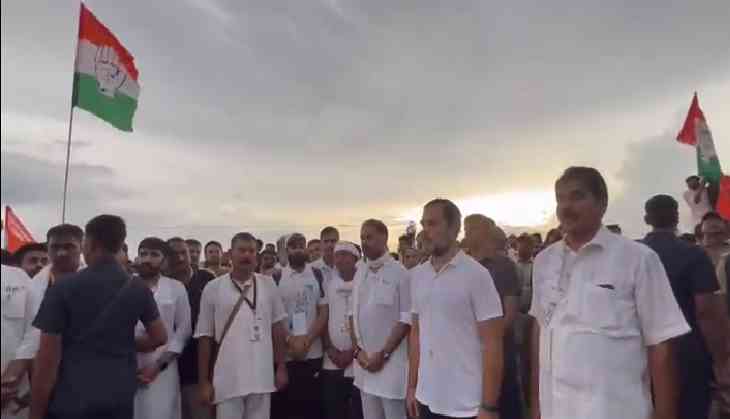 Akhilesh Yadav, with teary eyes, lit the pyre.
Former Uttar Pradesh chief minister and Samajwadi Party patriarch Mulayam Singh Yadav was cremated with full state honours at his ancestral village, Saifai, on October 11. A sea of people, including top politicians across the country, attended the last rites of Yadav.
The Samajwadi Party supremo's son Akhilesh Yadav, with teary eyes, lit the pyre.
Congress leader and Wayanad MP Rahul Gandhi and other party leaders observed a moment of silence in remembrance of Mulayam Singh Yadav during the Bharat Jodo Yatra. The Yatra was stopped for a while, and all the Congress leaders paid homage to the former UP CM.
Watch the video here.
#WATCH | Congress MP Rahul Gandhi and other leaders of the party observe silence for former Uttar Pradesh CM Mulayam Singh Yadav during Bharat Jodo Yatra

(Source: AICC) pic.twitter.com/uhhjQHGtm2

— ANI (@ANI) October 11, 2022
Mulayam Singh passed away on Monday morning at the age of 82 at Gurugram's Medanta Hospital due to age-related ailments. He was admitted to the intensive care unit (ICU) of the hospital last Sunday after his health deteriorated. He is survived by two sons, Akhilesh and Prateek.
Defence Minister Rajnath Singh, Bihar Deputy CM Tejashwi Yadav and PSP chief Shivpal Yadav were present at the last rites ceremony of former CM of UP, Mulayam Singh Yadav.
Born on November 22, 1939, in Saifai village of Etawah district, Mulayam Singh rose quickly in politics and became the Chief Minister of Uttar Pradesh thrice; he also served in the Union government once as the Defence Minister.
He was elected 10 times as MLA and 7 times as Lok Sabha MP.His career began when he was elected MLA in 1967 at the age of 28. He founded the Samajwadi Party on October 4, 1992, and soon turned it into a regional party based in Uttar Pradesh. His son Akhilesh Yadav took over the party's reins later and is now its president.