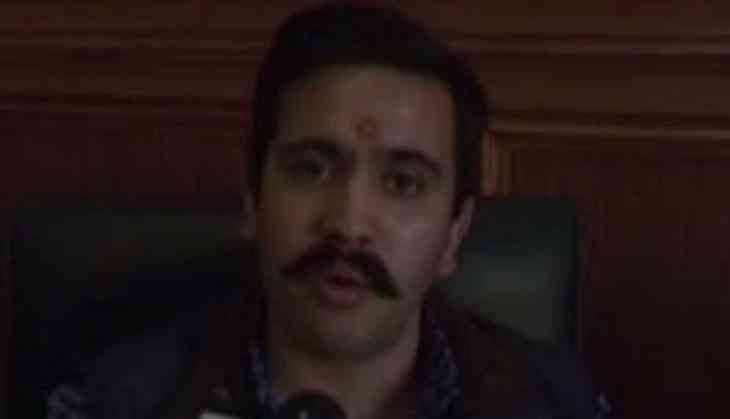 Virbhadra Singh's son says, DA case manufactured by BJP to achieve 'Congress-mukt Bharat' (ANI)
Accusing the Central Bureau of Investigation (CBI) and Enforcement Directorate (ED) at the behest of the Bharatiya Janata Party (BJP)-led Central Government, Himachal Youth Congress chief Vikramaditya Singh on Thursday said the money laundering case against his father and Himachal Chief Minister Virbhadra Singh was manufactured as a part of the saffron party's 'Congress-mukt Bharat' ideology.
Singh said it was not only confined to Himachal Pradesh, but to all other Congress-ruled states where the BJP had been using the investigating agencies to settle their political scores.
'This is also launched against the Himachal Chief Minister as a part of their 'Congress-mukt Bharat'. He had already said that the ED was working according to the whims and fancies of Finance Minister Arun Jaitley and we must not forget that Jaitley was the one, who as the leader of the Opposition, during the last assembly elections, had come to Himachal Pradesh and had made these frivolous allegations against the Chief Minister while addressing a conference,' Singh told ANI.
Singh assured that, if demanded, Himachal Pradesh Chief Minister will appear personally by going to New Delhi and cooperating with the concerned authorities.
'The Chief Minister is a law-abiding citizen. He will accomplish all demands. And in the coming time, if he is asked to appear personally, he will appropriately go to Delhi and depose in front of them and cooperate with them,' he said.
However, Virbhadra Singh will not be appearing before the ED today. He was earlier to visit New Delhi but canceled it later. He will be answering ED queries in writing in consultation with his legal team, as has also been confirmed by son Vikramaditya.
Earlier, the ED had attached assets of Virbhadra Singh worth Rs. 8 crores in a money laundering case. In March this year, the Delhi High Court refused to grant a stay on the proceedings initiated by the ED against him.
The ED, had last year, registered a money laundering case against Virbhadra Singh and others under provisions of Prevention of Money Laundering Act (PMLA) after taking cognisance of a criminal complaint filed by the CBI in this regard.
-ANI