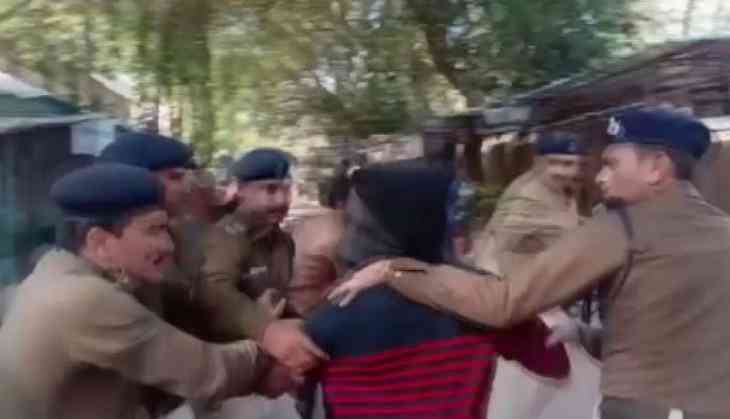 Lawyers attempt to thrash rape accused inside court premises
Lawyers, who were present at Mhow court premises tried to thrash an accused in a minor girl rape case, while he was being brought to the court for a hearing in the case in Madhya Pradesh's Indore.
The police had brought the accused person to court for the hearing. As the police started taking the accused to the court van, the lawyers, present at the court premises attacked him, reported ANI.
However, the police somehow managed to get the accused out of the lawyers.
A video of the incident has also surfaced.
Indore: Lawyers present at court premises attempted to thrash an accused in a minor girl rape case. The accused was brought to the court for a hearing in the case. #MadhyaPradesh pic.twitter.com/VyVyZerlkb

— ANI (@ANI) December 7, 2019
In the video, the accused person's face can be seen covered with black cloth. The police had taken him on remand for three days following his arrest. On Saturday the remand was over and he was presented by the police in Mhow court.
The court ordered the accused to be sent to jail, as per ANI.
In another incident, a woman on Saturday arrested after she allegedly poured petrol on her minor daughter. The incident took place when she was protesting outside Safdarjung Hospital in Delhi demanding justice for the Unnao rape victim.
The six-year-old girl was rescued by police and then, taken to the hospital emergency ward. While the woman who threw inflammable liquid on her daughter has been taken into police custody.
This shocking incident took place nearly an hour after the Unnao gangrape and murder victim's body was taken to her village in Uttar Pradesh after a post-mortem.
Read more: Woman demands justice for Unnao victim, pours petrol on daughter
In the recent past, many cases of rape, murder, and a crime against women have been reported from several parts of the country. The two cases of the heinous crime-- Hyderbad veterinary doctor's rape-murder killed and the Unnao rape case have shocked the whole nation.
While the police have arrested all the five accused, who allegedly poured kerosene on the Unnao victim and set her ablaze, the Hyderabad police on Friday killed all the four accused in an encounter, while they were trying to escape, while being taken to the crime spot in the wee hours.

Related Storie:
'Will I make it out alive? Please save me': Unnao rape victim's last words
Unnao rape case: Extremely saddening, case will be taken to fast-track court, says Yogi Adityanath
Five accused deserve death, nothing less: Unnao rape victim's brother