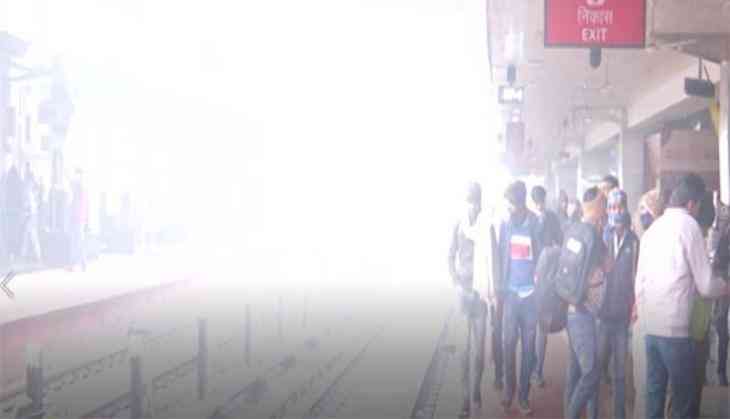 Dense fog, cold waves engulfs city
Due to the prevailing cold wave conditions, dense fog engulfed parts of Uttar Pradesh, with the minimum temperature falling to 4.6 degrees Celsius in Varanasi.
The Indian Meteorological Department (IMD) predicts that the cold wave would continue in the first half of the next week as well.
Due to the fog, a dozen trains are running late by several hours and many trains have also been cancelled, causing inconvenience to passengers. The biggest impact of the cold has been on the passengers travelling in the train.
According to the official information, Gondia Barauni Express is running late by 12:30 hours, Lal Kuan Howrah Express by 2:35 hours, Chauri Chaura Gorakhpur to Kanpur by 3:40 hours, Swatantrata Senani New Delhi Express by 5 hours.
A passenger waiting for his train said that he has been waiting for his train since 3:00 am. Passengers waiting at the railway station are facing huge problems.
Another passenger whose train got delayed said that Fog is increasing. Cold is also severe. Due to this problem is being faced by the passenger. No arrangements have been made by the Railway for the passengers waiting at the station.
Similarly, the delay of dozens of trains has become a common thing since last one week.
Meanwhile, in Varanasi, the temperature dropped to 4.6 degrees Celsius last night.
The National Capital Territory of Delhi recorded a minimum temperature of 1.5 degrees in the Delhi ridge area on Saturday as the cold wave conditions continue to grip northern India. As a result, many parts of Delhi are covered in thick and dense fog.
The Indira Gandhi International Airport reported disrupted flight operations as over 12 arrival flights were delayed at the airport from different destinations due to dense fog and low visibility.
The minimum temperature in many places in the northern belt reached close to the freezing point, with Bikaner in Rajasthan recording the lowest at exactly 0 degree Celsius.
(ANI)
Also Read: 42 trains running late in Northern Railway region due to fog