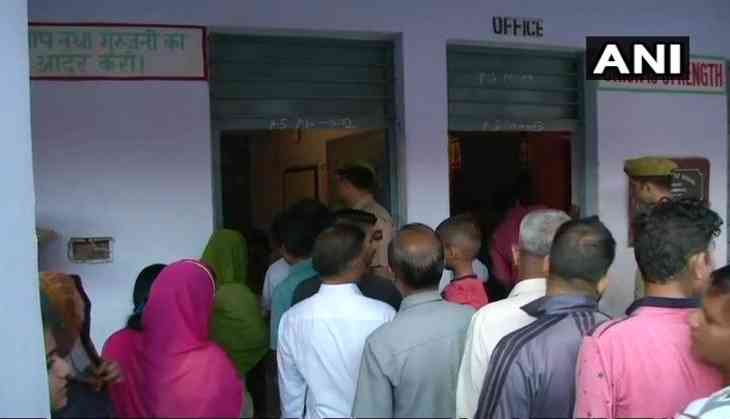 About six per cent of the electorate voted in the first six hours of polling in 83 wards of urban local bodies in militancy-wracked Kashmir Valley, where elections are being held amid tight security, officials said Monday.
Voting for the first of the four-phased elections in the Valley began at 7 am and will end at 4 pm.

"Over 5,400 voters exercised their franchise till 1.00 pm at the 150 polling stations set up in the 83 wards across the Kashmir Valley where polling is going on today," an official said.
Around 85,000 voters, including 40,800 women, are eligible to vote in the Valley.
Of the 30,074 voters in three wards of Srinagar Municipal Corporation, 1,500 turned up to exercise their franchise at the heavily fortified polling stations.
Polling was brisker in north Kashmir with more than 29 per cent of 4,700 voters casting their votes in the first two hours for Kupwara Municipal Committee, followed by 21 per cent in Handwara town, the official said.
The poll percentage in Bandipora, Baramulla, Anantnag and Budgam municipal areas was around five per cent.
Polling is being held for only 83 wards in the Valley as 69 wards have been won uncontested.
Of the 150 polling stations in the Kashmir division, 138 are categorised hypersensitive.
The urban local body polls were announced last month. Two major political parties -- the National Conference and the PDP -- have boycotted the elections accusing the Centre of not taking a firm stand on protection of Article 35-A of the Constitution, which is facing a legal challenge in the Supreme Court.
Militants have issued threats to anyone participating in these polls, resulting in absence of any campaigning by the candidates. Two National Conference workers were killed last week.
In dozens of wards, especially in south Kashmir, no candidate filed nomination papers.
Candidates who are contesting have been moved to safe locations and their details have not been made public.
-PTI