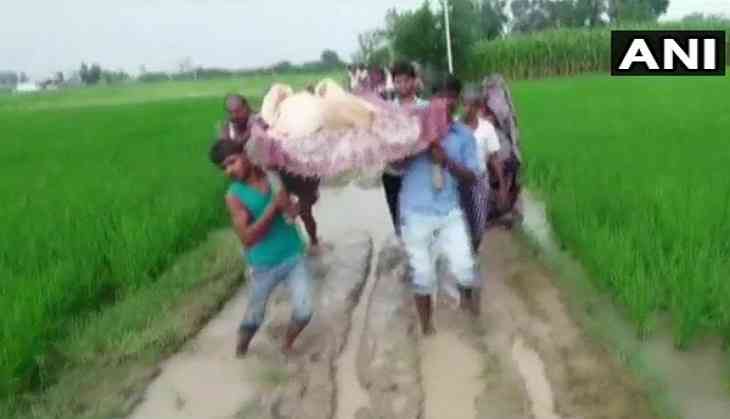 In what can be seen as a case of lack of medical facilities and infrastructure, a pregnant was carried on a cot by her family members to a hospital in Biharipura village of Uttar Pradesh's Etawah district.
The villagers carried the woman on the cot due to lack of road connectivity in the village. Speaking about lack of infrastructure, a villager said, "About 100 families live here with around 600 people. There is no connectivity to the village and no one has ever made a road here since independence. We have no schools or hospital a well. If anyone gets ill or requires medical assistance we have to carry him on a cot for transportation. There are no facilities at all."
A school going child from the village also said that they have to travel about three kilometres on muddy roads to reach school.
On being asked about the absence of basic facilities in the village, Jeetendra Kushwaha, Additional District Magistrate of Etawah said, "Matter has come to my notice and I have informed the Sub-Divisional Magistrate (SDM) about the same. He is sending a team. Problems will be solved at the earliest."
In a similar case, on September 4, a pregnant woman from Masaka village in Hyderabad's Vijayanagaram district delivered a child while she was on way to the hospital. The woman had to be carried on a makeshift cloth stretcher by her relatives through a forest for four kilometres due to lack of road connectivity.
(ANI)