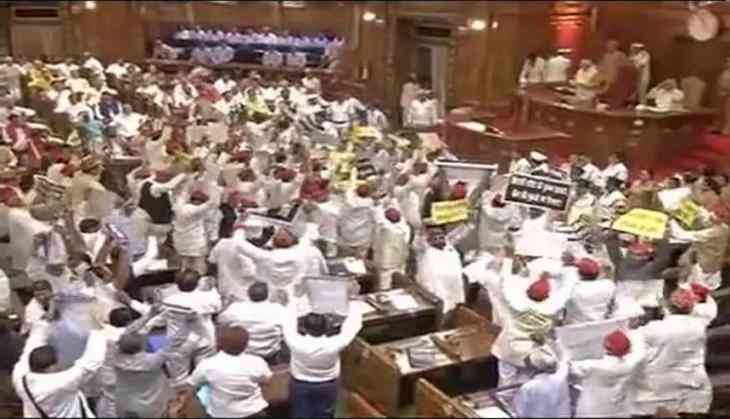 The maiden session of the 17th Uttar Pradesh assembly session witnessed a stormy session with Opposition parties creating an uproar in the floor of the house.
Denouncing the Chief Minister Yogi Adityanath-led government over the law and order in the state and other issues, the slogan-shouting opposition members trooped into the Well despite Speaker Hridaya Narain Dixit's appeal for an all-party meeting to ensure smooth proceedings.
Agitating opposition members even hurled paper balls at the podium and the marshals trying to dodge them away with files.
The uproar was such that Governor Ram Naik address also drowned in the noise.
Accusing the BJP government in Uttar Pradesh of failing to keep intact the law and order in the state, the Samajwadi Party said that it opposed the proceeding of the house to express displeasure over the poor governance of the Adityanath dispensation.
"The law and order in the state is very bad, people of the state are fed up. They have betrayed the farmers. Dalits and Muslims are being insulted and tortured. BJP is a communal force it will ruin the economic and social infrastructure of the state," said a Samajwadi Party leader.
Echoing similar sentiments the Congress party asserted that the BJP has failed to come up to the expectations of Uttar Pradesh and hence should not make tall claims about its success.
"The law and order in the state has collapsed. The culprits are not being punished. They just believe in talking. This government is not fulfilling the promises. This is why we staged a protest and boycotted Governor's address," said a Congress leader.
After becoming the 21st Chief Minister of the state, Yogi Adityanath had vowed to take stringent steps in improving the law and order in the state, saying, there would be no leniency shown towards it.
The newly elected 17th legislative assembly had convened this session for passage of the UP GST bill amongst others.
The GST Bill has already been cleared by the Parliament and now requires nod of the states to notify rule and regulations by the respective state governments for its pan-India implementation from July this year.
The proceedings of the UP assembly for the first time were telecasted live on Television.
The decision was taken in a meeting between Chief Minister Yogi Adityanath and Assembly speaker Hriday Narayan Dexit.
People also should directly see the activities of their elected representatives in house, said Adityanath.
-ANI