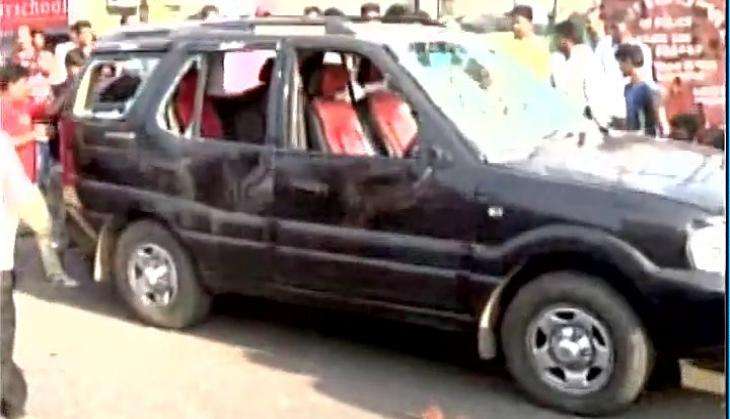 Union Minister Babul Supriyo, on 19 October, was allegedly attacked by a mob in Asansol, West Bengal. His convoy was pelted with brickbats and stones,with some directed at the minister as well.
Trinamool Congress allegedly stopped Supriyo's vehicle near Asansol's BNR mod and agitators pelted stones at him. During the alleged assault, one of the brickbats hit him on the chest and stomach. He suffered minor injuries.
Following the attack, the mob allegedly vandalised his car and two other BJP supporters who were accompanying Supriyo.
WATCH: Stone hurled at Union minister Babul Supriyo in Asansol, West Bengal pic.twitter.com/ecOG9os16t

— ANI (@ANI_news) October 19, 2016
WATCH: Ruckus during Union Minister Babul Supriyo's visit in Asansol, West Bengal pic.twitter.com/yCR8xHvftb

— ANI (@ANI_news) October 19, 2016
TMC MIN Malay Ghatak's goons inflicted this injury on my 'chest'' with a solid brick thrown 'FROM A DISTANCE"-Cowards pic.twitter.com/xMyAb9z1mr

— Babul Supriyo (@SuPriyoBabul) October 19, 2016
"They attacked me with brickbats and vandalised my car. This mob comprised goons from the Trinamool Congress. They were Trinamool Congress leader Malay Ghatak's men. Instead of arresting the people who attacked us, police have arrested BJP supporters," said Supriyo.
The Union Minister even took to Twitter to show his injuries. Post the attack, Trinamool Congress district president V Shivadasan negated any involvement of Trinamool Congress in the attack.
West Bengal: Ruckus during Union Minister Babul Supriyo's visit in Asansol pic.twitter.com/d6Z4N4SefR

— ANI (@ANI_news) October 19, 2016