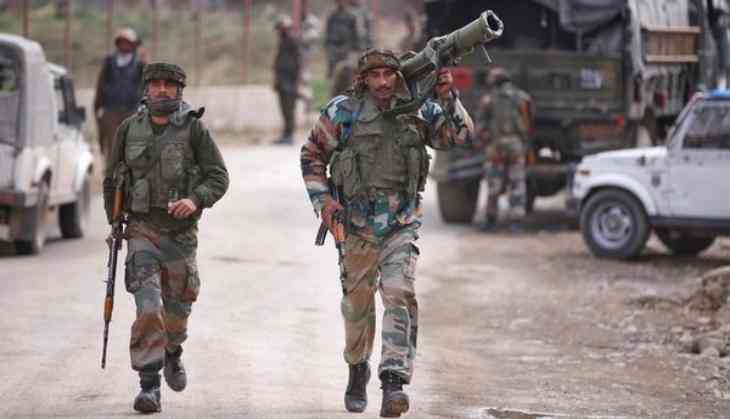 Timeline: Deadliest 'invasive' attacks on Indian security forces (ANI)
At least three soldiers, including a captain, lost their lives after terrorists attacked an Army camp in Jammu and Kashmir's Kupwara district. Two terrorists were also killed in the attack on the Army base located close to the Line of Control (LoC).
Meanwhile, reports state that two more terrorists are still holed up and attempts are being made to smoke them out.
This is not the first time terrorists have gunned down the Central Reserve Paramilitary Force (CRPF) personnel after invading and attacking their camp.
Here's a timeline of the major strikes at the Indian Army camps in the recent years:
-January 2, 2016
The Pathankot Air Force Station, part of the Western Air Command of the Indian Air Force was attacked by a group of heavily armed terrorists on January 2, 2016.
Four terrorists were killed by the security forces, and the Indian Armed forces lost three brave men including NSG's Lt Col Niranjan, who attained martyrdom when a bomb exploded while he was inspecting a terrorist's body.
The terrorists belonged to Jaish-e-Mohammed, an Islamist militant group.
-September 18, 2016
In one of the bloodiest attacks on the Indian Armed forces, 19 soldiers were killed in a militant attack in Uri area of Baramulla. Four fidayeen militants stormed an Army camp at Uri in Baramulla District near the LoC on September 18, 2016. The high number of casualties in the Uri terror attack was due to the fact that a large number of soldiers, of the Dogra Regiment, had been stationed at the camp in tents and other temporary structures as there was a changeover of guards. Some of these tents caught fire during the attack, and the fire spread to other parts of the barracks.
While the four terrorists were neutralised immediately, India also conducted a surgical strike in retaliation on September 29, 2016, against militant launch pads across the LoC in Pakistani-administered Azad Kashmir. Nearly 20-50 militants were neutralised as per the Indian Army.
The militant group Jaish-e-Mohammed is suspected of being involved in the planning and execution of the attack in Uri.
-November 29, 2016
Seven soldiers, including two Majors, were killed when militants dressed as policemen stormed a military camp in the Nagrota area of Jammu and Kashmir, triggering a fierce gun battle that raged for more than 12 hours.
-December 5, 2014
Heavily armed militants stormed a battalion headquarters of the Army in North Kashmir's Uri town, killing 17 jawans and injuring 19 other personnel in the terror strike. Six militants were also killed in the operation.
-ANI