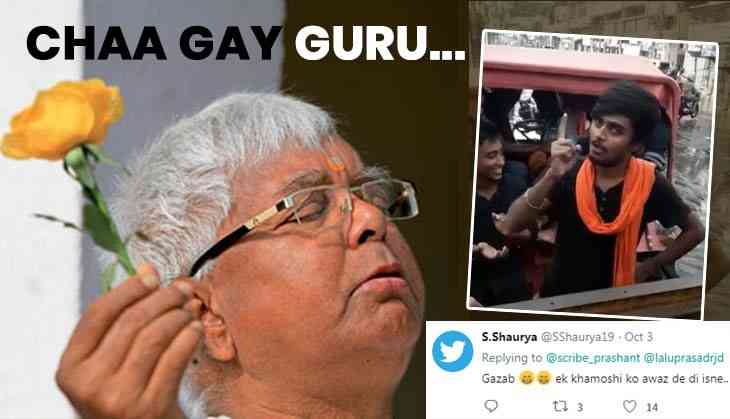 Due to incessant rains in Bihar, the situation in the state remains worst. Several places in Bihar have been waterlogged and life also gets affected because of the heavy downpour. Amid such a grim situation, a video has surfaced the Internet in which a man is asking question Nitish government for ignorance towards the state and its citizens.
You must be thinking what's unique in his speech? Well, the man mimicked the RJP supremo Lalu Prasad Yadav and slammed Nitish Kumar.
In the viral video, a man is seen talking about the current flood situation in the state by imitating Lalu Prasad Yadav. As per the reports of Indian Express, the man is identified as Krishna Yadav, a second-year Political Science student.
The man can be seen standing on a tractor in floodwater and slamming Chief Minister for the inaction in controlling the situation.
See video:
Oh man! Is this the best mimicry of @laluprasadrjd yet by anyone? Must watch once! 😀 pic.twitter.com/ToVbcsUqON

— Prashant Kumar (@scribe_prashant) October 3, 2019
Meanwhile, he has been applauded for his mimicry on every social media platform and people encouraging him to do another one on Prime Minister Narendra Modi.
Check out how netizens reacted:
Superb 👌👌👌
खुद @laluprasadrjd भी हैरान रह जाएंगे!!!

— urmila 🇮🇳 (@urmila2008) October 4, 2019
Mujhe laga ye tik tok hai pr ye to kamal kr gya bnda....
Is talent ki khoj hon chahiye

— Socialist अहीर (@Bharatsocialism) October 3, 2019
Gazab 😁😁 ek khamoshi ko awaz de di isne..

— S.Shaurya (@SShaurya19) October 3, 2019
अभी अभी फ़ेसबुक पर देखे। और नैचुरल लोकेशन में। 😂

— Shubhrastha (@Shubhrastha) October 4, 2019
पहले हम सोचे टिक टॉक है।

— Abhay Pandey (@incabhaypandey) October 3, 2019
@NitishKumar @BJP4India
You think Lalu Prasad in jail.
Than that's your mistake, Lalu ji always say "Har ek awaj Lalu hoga". That's saw on the road by this young guy.
Now question is that @NitishKumar have you answered for that #Lalu.#HarAwajLalu@yadavtejashwi @RJDforIndia

— Ujjval priyadarshi (@withujjval) October 3, 2019
Gajab, exact copy

— Shwet Kashyap (@ShwetKashyap3) October 4, 2019
While speaking to indianexpress.com, Yadav said that he didn't have any intention of making a video at all. "Being a votary of Lalu Prasad Ji, my friends told me to talk about the flood havoc in his voice and I did. But I didn't know that they were going to upload it and then expect it to go viral," said Yadav.
He also said that he wanted to be an actor and hope that this video will help him in his acting career.
Also Read: Husband mimics different maternity poses in front of waterfall, gives hilarious surprise to pregnant wife