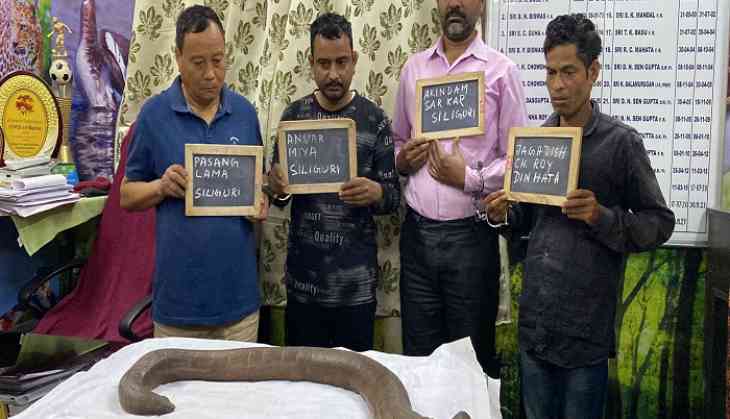 A team from the Belacoba Forest Range has arrested four men from the Darjeeling Forest area and rescued a Red Sand Boa, an endangered snake species, from their possession.
The accused persons were arrested in connection with the illegal trading of the endangered snake.
As per the forest ranger team, the accused were about to deliver the serpent to Nepal. The accused were identified as Arindam Sarkar, Pasang Lama Sherpa, Abavar Miya and Jagadish Ch Roy.
Police have registered a case in the relevant sections, and an investigation is underway.
WB | Team of Belacoba forest range seized Red Sand Boa (Eryx johnii) from Darjeeling forest area arrested 4 people in connection with illegal trading. Accused identified as Arindam Sarkar, Pasang Lama Sherpa, Abavar Miya & Jagadish Ch Roy. It was scheduled for delivery to Nepal. pic.twitter.com/tW3wrVmVvJ

— ANI (@ANI) February 21, 2023
Red Sand Boa
Red Sand Boa is an endangered species and is protected under Schedule IV of the Wild Life (Protection) Act, 1972. In 2021, the government also included the snake in the IUCN (International Union for Conservation of Nature) Red List of Threatened Species.
In India, specially in Gujarat, the Red Sand Boas or 'Do Mua' (double headed) are mercilessly killed due to the superstitions. Black magic followers believe that the snake has enourmous powers and drinking its blood will give them supernatural powers.
It is also misbelief that Boa's meat can cure AIDS, asthma, and erectile dysfunction.
Black magic believers also believe that the vertebrae of the snakes can make things disappear. Raining hammer blows on the snakes is thought to calm spirits.
Crime News: Woman set on fire by live-in partner succumbs to injuries; accused arrested
There is also a demand of the Red Sand Boas in the international market. It is sold to people who like to pet exotic animals. Each snake, on average, fetches over Rs 4 lakh in the international market.