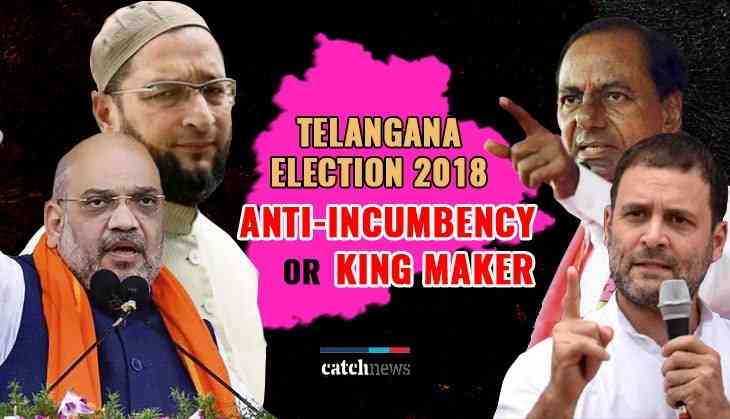 Telangana election might spring up a surprise at the end as it is being said that the smaller players might play a major role in determining the government.
The youngest and the newest state of India, which was scheduled to be in the voting zone in May 2019, has got the assembly dissolved by the CM K Chandrashekhar Rao and in the midst, the Election Commission decided to hold the election in December along with the Rajasthan.
The results will be announced with other state assembly election on December 11.
But, in the 119 assembly seats, AIMIM's Owaisi was able to win a considerable chunk of vote share with 7 seats. Although, TRS had formed the government with 63 seats as the majority mark has remained to be 60. But the principal Opposition has been the Congress party which had won 21 seats during the last poll and has been credited for carving out the new state of Telangana.
In the midst of polls, its the Telegu Asmita which will matter for a chunk of voters due to the association of Hyderabad with Andhra and the TDP's Chandrababu Naidu, who is although contesting on merely 13 seats has raised the issue of Asmita, wherein the new voters of Telaangana might also get affected.
Owaisi, who might play the role of king maker as the Muslim population has a large following for Owaisi and the 7 seats his party won was due to this factors. The Nizams, OBC's and other castes are in the focus light due to the caste based politics and vast polarization.
Also read: Telangana Election 2018 Live Updates: Polling begins in Telangana's 119 constituencies seats to decide fate of
Sania Mirza cast her vote at Film Nagar Cultural Center in Hyderabad. #TelanganaElections pic.twitter.com/GlD1jNSPRo

— ANI (@ANI) December 7, 2018