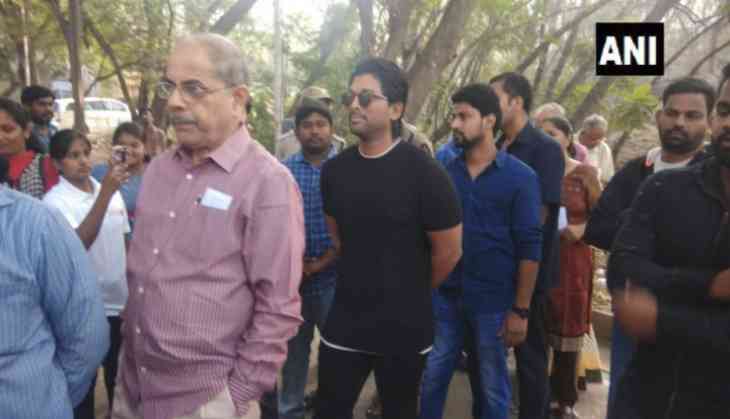 Setting a good example, renowned Telugu actors Akkineni Nagarjuna, Amala Akkineni and Allu Arjun exercised their franchise in the Telangana Assembly Elections on Friday.
Nagarjuna and his wife Amala were among the many early voters. The star couple was seen at booth number 151 in Jubilee Hills, Hyderabad. While Allu Arjun was also spotted standing in a queue outside booth number 152 in Jubilee Hills area of Hyderabad to cast his vote.
Chiranjeevi was also present at booth number 148 in the same area of Hyderabad to cast his vote.
Polling in 119 assembly constituencies in Telangana began today to elect a new government in the state.
While polling in 13 Naxal-affected constituencies is scheduled to end at 4 pm, voting in the rest of the constituencies will end at 5 pm.
A total of 1,821 candidates are in the fray, along with a few independents. Malkajgiri constituency has the highest number of contestants (42) while Banswada has the least (6).
44,415 ballot units, 7,557 reserve ballot units, 32,016 control units 4,432 reserve control units, 32,016 voter-verifiable paper audit trail (VVPATs), and 5,261 reserve VVPATs are being used for the polling.
In order to maintain law and order in the state, 32,815 polling stations will be manned by five personnel and one or two constables on an average. About 10,000 polling stations have been identified as critical and extra forces will be deployed in these stations.
The present elections are the first polls being held exclusively for Telangana after its formation and mark the first time when VVPATs is being used for all the 119 Constituencies.
Telangana Assembly was dissolved in September, more than 10 months before the expiry of its term, thus generating the need for early elections.
In the first assembly poll, K Chandrasekhar Rao-led Telangana Rashtra Samithi (TRS) won 63 seats out of 119 with a vote share of 34 per cent.
The state is witnessing a three-cornered fight between TRS, the Bharatiya Janata Party (BJP) and the grand alliance of the Congress, TDP, Communist Party of India (Marxist) and the Telangana Jana Samithi, all competing for the majority of seats. The All India Majlis-e-Ittehad-ul Muslimeen (AIMIM) is also contesting polls from various assembly seats.
The results of the Assembly polls will be announced on December 11.
-ANI