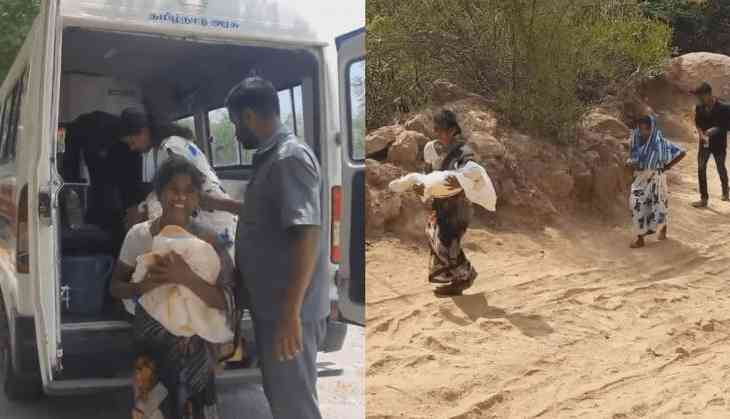 Parents forced to carry child's body for 10 km
In a heart-wrenching incident in the Vellore district, the parents of an 18-month-old child named Dhanushka, who tragically succumbed to a snake bite, were compelled to carry her lifeless body for a gruelling 10 kilometres after being abandoned by the ambulance midway.
The lack of adequate roads in the village hindered their timely access to medical assistance, resulting in an unfathomable loss.
Helpless Journey
Dhanushka's parents and relatives rushed her to a hospital in Vellore following the snake bite incident.
However, the absence of proper roads impeded their progress, leading to a delay in reaching the medical facility.
Tragically, the child passed away en route, compounding the grief of her distraught parents.
Abandoned by Ambulance
After completing the necessary autopsy procedures, the child's lifeless body was entrusted to her grieving parents. However, due to the lack of road facilities, the ambulance was unable to complete the journey, forcing the driver to drop the family off 10 kilometres away from their intended destination.
The parents made the heart-wrenching decision to carry their beloved child's body back home to perform the final rites.
Outrage and Demands for Accountability
The incident quickly garnered attention and triggered outrage on social media. Khushbu, a member of the National Commission for Women (NCW) and a prominent BJP leader, expressed her profound devastation on Twitter. She called for immediate and stringent action against the ambulance driver, emphasizing the need for authorities to swiftly investigate the matter and hold those responsible accountable for their inhumane actions.
Allegations and Ongoing Investigation
Relatives of the child have alleged that the inadequate road infrastructure significantly contributed to the delay in reaching the hospital, depriving Dhanushka of timely medical treatment. The Police have registered a case under the relevant sections.
The heartbreaking incident of Dhanushka's death and the subsequent anguish endured by her parents raises pressing concerns about the accessibility of essential emergency services in rural areas and emphasizes the need for immediate action. As authorities continue their investigation, it is crucial to address the underlying issues and ensure that such tragedies are prevented in the future.
The incident serves as a sad reminder of the urgency to prioritize the development of proper road facilities, ensuring timely medical assistance and saving precious lives.