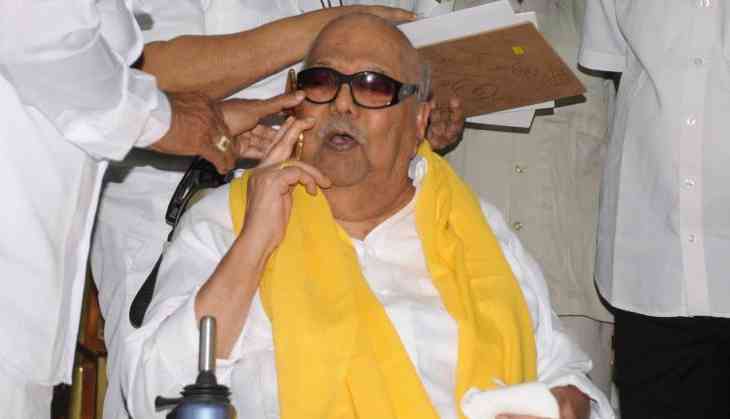 Cases have been registered in different places of Tamil Nadu against BJP national secretary H Raja for his alleged defamatory remarks against late DMK patriarch M Karunanidhi and also against some temple staff.
Police in Coimbatore filed cases under various sections of the IPC against Raja for posting defamatory remarks in the social media against Karunanidhi some six months ago.
The case was registered Friday night on complaints by former panchayat president and DMK Kaniyur unit secretary Velusamy in Karumathampatti police station on the city outskirts on April 18.
The cases have been registered under IPC sections 500 (punishment for defamation and 501 (printing or engraving matter known to be defamatory).
Meanwhile, police in Thanjavur registered cases against Raja Friday night on a complaint that he had allegedly spoken against the 'Tirukovil Paniyalargal' (temple employees) and their family members in a derogatory manner.
On September 17, the Madras High Court had initiated contempt proceedings against Raja over his alleged derogatory remarks against the judiciary and the police.
Observing that any attempt at disrespecting the judiciary could lead to promotion of fascism and naxalism, the court had ordered the BJP leader to appear before it on October 22.
The senior BJP leader claimed in Nagapattinam that he was not absconding as portrayed in some sections of the media.
Speaking to reporters, he said there was no reason for him to go absconding.
Asked about two special police teams formed to search for him, Raja said he was not aware of any such special team or why the teams were set up.
On restrictions imposed by the Hindu Religious and Charitable Endowments Department,citing Agama shastras (rules for worship, temple building and rituals) in connection with the Tamirabarai Pushkaram festival in Tirunelveli,he wondered why they were not followed when idols were kept on display at the government exhibition in Chennai.
"While allowing exhibition of idols,the HR&CE depatrment is citing the vedic rules to bring idols to the banks of the river for a holy festival like Puskaram. This is quite objectionable," he said.
The BJP leader has been embroiled in several controversies in the past over his remarks on various issues.
In March this year, a row erupted over Raja's remarks indicating that statues of rationalist leader E V Ramasamy "Periyar" could be the next to be pulled down after a Lenin statue was razed in Tripura.
He, however, sought to blame his Facebook administrator for the gaffe and expressed regret over the comments.
(PTI)