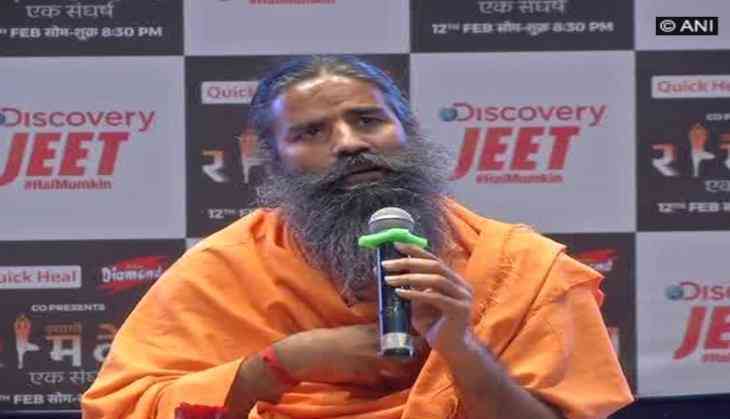 A mega TV series, 'Swami Ramdev: Ek Sangharsh', on the life of the Yoga Guru is all set to air on Discovery JEET from February 12.
Mounted on a larger than life scale, the scripted biopic will trace Swami Ramdev's inspirational journey from a life of anonymity to a renowned yoga guru, business guru, and national icon, read an official note.
Speaking on the same, the Yoga Guru said, "I am humbled that Discovery JEET has made a television series on my life. I was initially not keen to open-up my life for a television series but Discovery JEET's philosophy of 'Hai Mumkin' attracted my attention."
"My life has not been an easy ride, I have faced 'sangarsh' all along and the biopic traces the sequence of events as they emerged. I want to give a message to all countrymen - never give up, life will offer its challenges but if you are up to it, day in and day out, then nothing can stop you from succeeding," he added.
Acharya Balkrishna further explained, "We receive millions of requests from curious followers wanting to know more about Swami Ramdev's life. I am delighted that their wish has been granted and a larger-than-life life biopic is being showcased on Discovery JEET. I hope and pray that people across the country imbibe and get inspired by the life of a living legend."
The trailer and the TV campaign of 'Swami Ramdev: Ek Sangharsh' has grabbed the eye balls of many.
In the official biopic of Swami Ramdev that has been shot in different locations on Rajasthan, Haridwar, and Mumbai, Discovery JEET will narrate his life story.
"Swami Ramdev's life arc - with its many ups and downs - is an inspirational story of an individual winning against all odds, the exact thesis of Discovery Jeet, launching Feb 12th," said, Karan Bajaj, Sr. Vice President & General Manager - South Asia, Discovery Communications India. "Our writers' team first met Swami Ramdev for a 1-hour show, and then we realized that his life cannot be captured in such a short series. The result is an epic bio pic spanning 85 episodes, which we believe will capture the hearts and minds of our target audience across the country."
Co-Produced by Ajay Devgn Flims and Watergate Production, Swami Ramdev's life is symbolic of 'Hai Mumkin' attitude, which forms the bedrock of Discovery JEET's programming philosophy, the official added.
--ANI