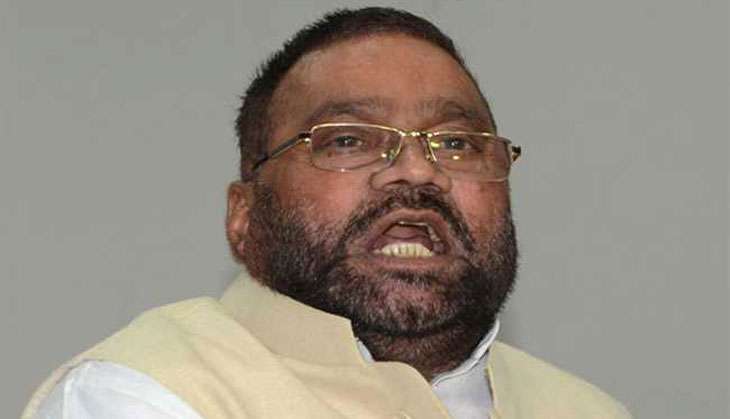 Swami P Maurya, former BSP leader and Leader of Opposition UP Legislative Assembly, in a fresh jab at Mayawati told reporters at Firozabad that she was actually humiliating Dalits by calling herself their 'devi'.
A person who can sacrifice the principles of legendary figures like Baba Saheb Ambedkar and Kanshiram at the altar of self-interest has no right to call herself 'devi' of Dalits, he said.
Maurya said Mayawati has become blind in her lust for money and has detracted from Baba Saheb's mission, adding that those with principles, were feeling so suffocated that they had to quit the party as he did.
He also accused BSP chief Mayawati of auctioning party tickets for the upcoming polls.
Congress leadership without direction
Maurya said the Congress leadership was directionless. Depressed and disappointed with continuing revelations of their scandals, the Congress leadership disappeared from the scene altogether.
A party whose leader goes missing during crucial times or at random cannot exist, he said.
In contrast, the leadership of PM Modi has brought about a revolutionary change. He has established five memorials in honour of Baba Saheb, this is a matter of pride for Dalits, he said.
Maurya said PM Modi has brought glory to the country at the global level. This was the reason, he said, for his attraction to the BJP and joining the party.
Did not hold hands of SP
Maurya also lashed out at the ruling SP government saying 'goondaraj' prevailed in UP and criminals were calling the shots.
If the SP supremo Mulayam Singh can make an irresponsible statement like 'boys can make a mistake' on a sensitive issue like rape then one cannot expect their daughters and daughters-in-law to feel safe, he added.
Recently, a minister of the party made an inhuman and insensitive statement on Bulandshahar incident, he said, adding that it is a reflection of the party's thought process which encourages crime. "How can one join hands with such a party," he asked.
Warm welcome
SP Maurya was extended a warm welcome, garlanded by party workers at the residence of former minister Thakur Jaiveer Singh, situated at Kunjapur.
SP government repressive
Former minister Jaivir Singh emphasised the development agenda in BJP's politics and the role of SP as an obstructionist in it. UP cannot move along the path of progress with SP in power, he said. The public will teach a lesson to this ruling party in the days of come and bring BJP to power.
BSP to suffer repeat of Lok Sabha fate
The policies of BSP supremo Mayawati cost her dearly in Lok Sabha elections as she could not win even a single seat. The meeting was attended by thousands of party workers and people along with local leaders.