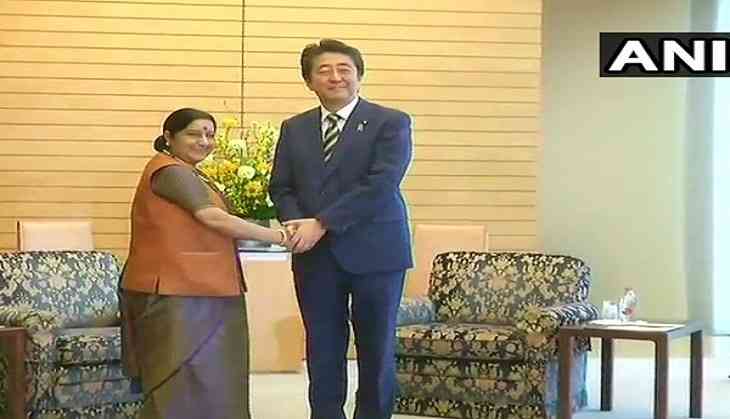 Sushma Swaraj and Shinzo Abe
External Affairs Minister (EAM) Sushma Swaraj met Japanese Prime Minister Shinzo Abe here on Friday.
During the meeting, the two leaders discussed ways to further enhance the bilateral ties between India and Japan. Swaraj also conveyed the greetings of Prime Minister Narendra Modi to Prime Minister Abe.
On the other hand, the Japanese Prime Minister added that the traditional friendship between the two countries was characterised by heart-to-heart bonds and blessed with a huge potential for growth.
The Ministry of External Affairs (MEA) spokesperson Raveesh Kumar captured the moments of the meeting on Twitter.
India and Japan on Thursday discussed various issues including terrorism, economic development, and mutual cooperation, a joint statement by Swaraj and Japanese Foreign Minister Taro Kono said.
The EAM also on Thursday held a bilateral meeting with Kono for discussing ways to strengthen bilateral ties between the two countries.
Prior to this, Swaraj met the chairman of Liberal Democratic Party (LDP) Policy Research Council Fumio Kishida.
While addressing a gathering of Indian diaspora at the Vivekanand Cultural Centre in Tokyo yesterday, Swaraj lauded the contribution of the diaspora for strengthening the bond with Japan and creating a positive image about India in Japan.
The EAM reached Tokyo on Wednesday, on a three-day visit to attend the ninth India-Japan Strategic Dialogue with Kono.
-ANI