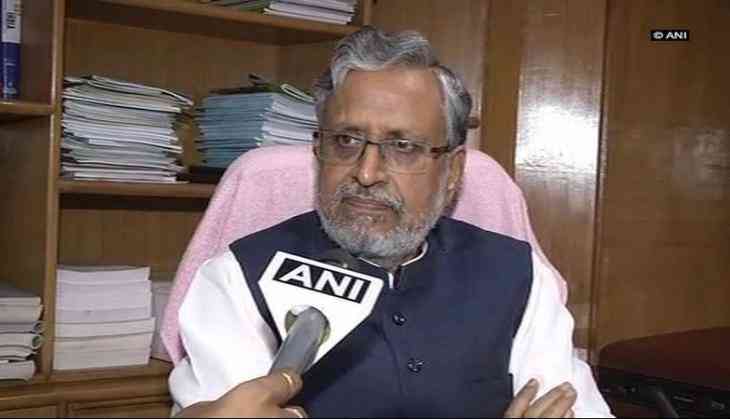 Terming Tuesday's attack on his convoy a 'result of Rashtriya Janata Dal's (RJD) frustration,' Deputy Chief Minister of Bihar Sushil Modi said that the former cannot accept the fact that they are not in power anymore.
This came after some attackers, allegedly RJD workers, pelted stones at Sushil Modi's convoy near Chaksikandar in Vaishali district. However, no one was injured in the incident.
Speaking to ANI on the same, Sushil Modi, on 15 August, also said that "hooliganism," "kidnapping" and "Jungle Raj" have been RJD's practice.
"The people of the RJD are disheartened. They have become powerless. They even can't give clarification to the accusations slapped against them. It is out of this frustration that they launched an attack," he said.
"This is not the first time that it has happened. Earlier, the RJD supporters attacked the BJP party office. Raj Vallabh Yadav, Shahabuddin, hooliganism, kidnapping, 'Jungle Raj' have been RJD's practice. They have not come out of that till now," said Sushil Modi, who has raised a string of corruption charges against Lalu Prasad Yadav in the recent past, remembering the attack in May on BJP's Patna party office, which he then termed as an act of RJD's desperation.
"Such an incident can happen again. We have asked people to be alert on 27 August; they have their rally then. They are enraged. Their supporters can't take the fact that they have now turned powerless," he added.
Bihar Deputy Chief Minister Sushil Kumar Modi's convoy was attacked on 15 August near Chaksikandar in Vaishali district at seven o'clock in the evening.
According to reports, Sushil Modi was going to take part in a programme at the house of BJP legislator from Mahanar Achuthanand.
-ANI