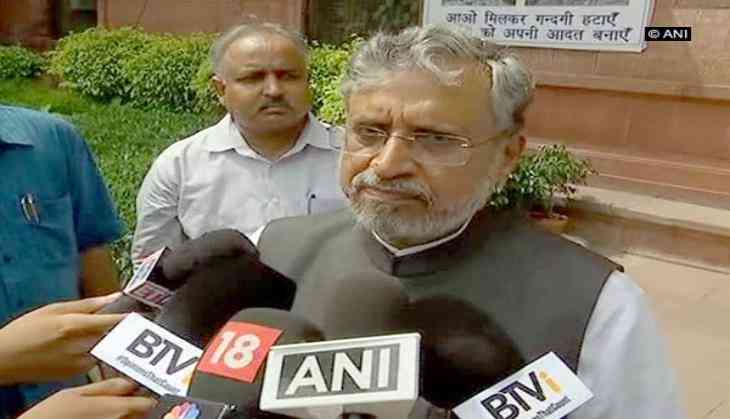 Amid reports of a rift between Bharatiya Janata Party (BJP) and Janata Dal (United) over seat sharing, Bihar Deputy Chief Minister Sushil Modi on Monday clarified that there is no such dispute between the National Democratic Alliance partners.
"The votes will be taken in Bihar on the basis of PM (Narendra) Modi's name and Nitish Kumar's work. Where is the contradiction here?" the deputy chief minister said in connection with seat sharing for 2019 general elections.
"The RJD-Congress alliance has weakened a lot now. Nobody can match the BJP-JD(U) alliance when it comes to running a state," he added and asserted that there is "no dispute" between the two parties.
His comments come ahead of an NDA meeting, scheduled to be held later this week to discuss seat-sharing for the 2019 Lok Sabha elections.
On Monday, JD(U) leader and Rajya Sabha MP K.C. Tyagi, too, said Nitish Kumar will represent the BJP-JD(U) alliance in Bihar.
"Being a veteran, Nitish Kumar is the biggest leader of the Bihar alliance. He has won many elections. That is why NDA in Bihar is working under his guidance and will continue to do so. Currently, there have not been any talks regarding seat-sharing. Nitish Kumar will lead the alliance in the 2019 general elections," Tyagi said.
JD(U) spokesperson Ajay Alok also confirmed Nitish Kumar as the face of NDA in Bihar yesterday.
"There is no confusion in JD(U) regarding seat sharing. We used to contest on 25 seats and BJP on 15 seats. Now more allies have joined us so all top leaders will decide about the seat sharing," Alok told ANI.
(ANI)