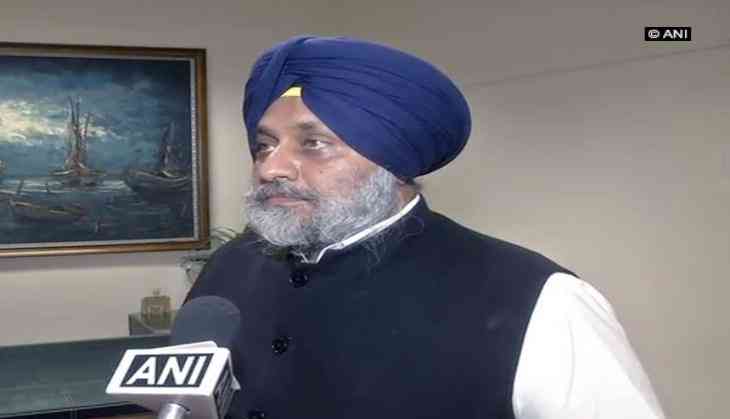 Sukhbir Singh Badal (ANI)
Forme1r deputy chief minister of Punjab Sukhbir Singh Badal on Monday accused former prime minister Rajiv Gandhi of supervising the anti-Sikh riots in parts of Delhi in October and November 1984.
Singh's response came in the wake of reports that Gandhi took several rounds of North Delhi with then senior Congress leader Jagdish Tytler to assess the situation during and immediately after the riots.
"Jagdish Tytler has revealed that Rajiv Gandhi travelled with him across the city in 1984. It means that the then prime minister was supervising the killings. CBI (Central Bureau of Investigation) must look into it, it is a very serious issue," Badal told ANI.
In an interview given to a news channel recently, Tytler had claimed that Gandhi took stock of the situation and asked him to contain the riots.
Tytler was then a sitting Member of Parliament from North Delhi.
The former union minister is regarded as a controversial leader for his alleged role in the anti-Sikh riots that broke out in Delhi following the assassination of then Prime Minister Indira Gandhi on October 31, 1984.
Official statistics say about 2,800 people were killed across India, including 2,100 in Delhi. However, independent sources estimate the number of deaths to be in the region of about 8,000, including at least 3,000 in Delhi.
It maybe recalled that when Rajiv Gandhi was sworn in as prime minister after his mother's death and asked about the riots, he was quoted, as saying, "When a big tree falls, the earth shakes".
The anti-Sikh riots in parts of north and north western India came in the aftermath of "Operation Blue Star" in June 1984, when then Prime Minister Indira Gandhi ordered the Indian Army to attack the Golden Temple in Amritsar and flush out and or eliminate Sikh separatists housed within with weapons.
Later operations by Indian paramilitary forces were conducted to clear separatists from Punjab.
In the aftermath of the riots, the government reported that 20,000 had fled the capital city. The People's Union for Civil Liberties reported at least 1,000 displaced persons.
The most-affected regions were the Sikh neighbourhoods of Delhi.
Human rights organisations and newspapers across India believed that the massacre was organised.
The collusion of political officials in the violence and judicial failure to penalise the perpetrators alienated Sikhs and increased support for the Khalistan Movement.
The Akal Takht, Sikhism's governing body, considers the killings a genocide.
--ANI