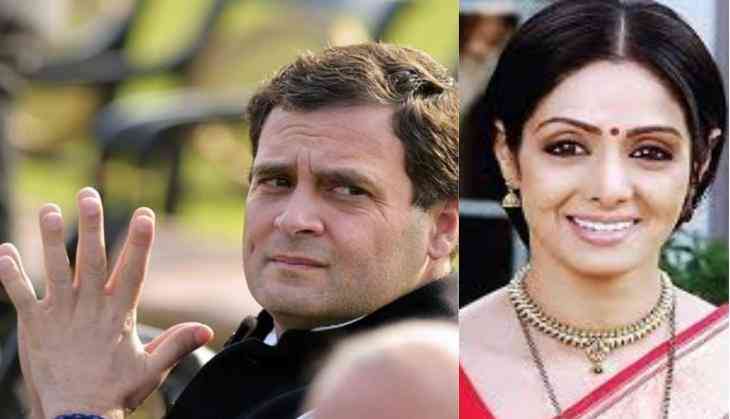 The country woke up to the shocking news of one of a legendary actress of Bollywood Sridevi's death. On 25th February India cinema lost the versatile actress and gems Sridevi who breathe her last in a family function in Dubai. She was only 54 and cause of her death was a major cardiac arrest.
Sridevi's death was a big shock and unbelievable news that was hard to digest for all of us. Many celebrities and politicians took Twitter to share their grief, many common people also came forward to share their distress on Twitter.
The opposition Party Congress also paid tribute to the Chandani actress. The official Twitter handle of the party tweeted, "We regret to hear about the passing away of Sridevi. An actor par excellence. A legend who will continue to live in our hearts through her stellar body of work. Our deepest condolences to her loved ones. The was awarded the Padma Shri by the UPA Govt in 2013."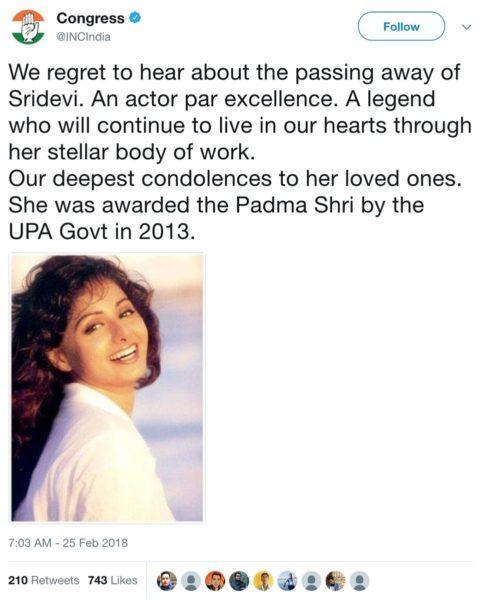 However, the twitterati didn't like the way of the Congress praised Sridevi by highlighting themselves that Sridevi was awarded by Padma Shri by 'UPA' government in 2013. This tweet ended up bad for the party and the fans trolled Congress and accused them of giving a political angle to the death of the actress.
Here are the harsh words of the Chandani actress fans for Congress and their political strategy.
You could have also mentioned that she was born when Congress Govt was in power and died when BJP govt is in power

— Amit Saha (@saha_amit) February 25, 2018
The humility of @INCIndia . It did not take credit for Sridevi living, eating and breathing in Congress ruled times. pic.twitter.com/wBx6WfPHQJ

— VikasSaraswat (@VikasSaraswat) February 25, 2018
Was that 'by the UPA Govt' really necessary INC, in a condolence message? :( pic.twitter.com/BkgrYEKYCh

— Karthik (@beastoftraal) February 25, 2018
Seriously? Was the UPA bit for giving her a Padma Shri really necessary in a condolence message. What kind of idiots are you guys

— Masakadzas (@Nesenag) February 25, 2018