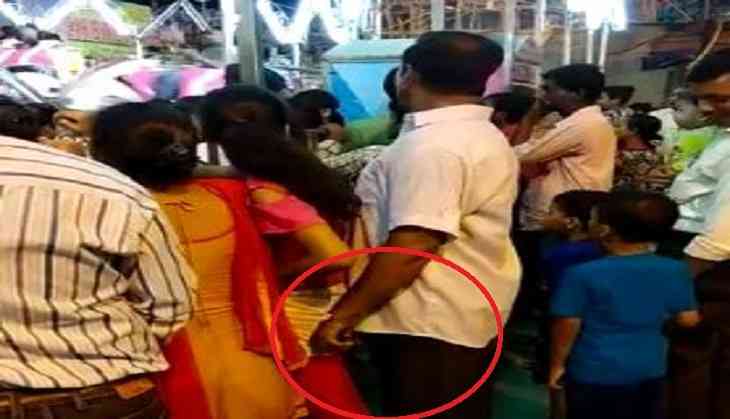 Women and minors being sexually molested in public places are often to be heard. Every day we come across an incident where girls have been molested or harassed or even being raped by men. But a middle-aged man could control his lust in a crowded fair and without fear or shame, he tries to sexually overcome on a teenage girl. An onlooker shot the whole incident on his cell phone.
In the video, the man can be seen rubbing his pants on the girl's back, who is in here teenage at a crowded fair. The video is being viral on the social media and the incident has reportedly said to happen in West Bengal's Chinsurah---district Hooghly. The mother of the girl felt something auspicious and moves her daughter aside from the man.
However, the man who is in his 50s has not been identified yet. But due to the video went viral on social media, that has caught the attention of the West Bengal police. The video was shared by a Twitter user, Wahid Syed that caught the eye of the nation. After watching this you will feel like to slap the man hard.
Watch the video here:
Kaise kaise ghatiya log hote hai Bc,inki khud ki betiya nhi hoti Kya.insaniyat naam ki cheez nahi Logo main aaj kal Bahut hi ghatiya harkat gheen aati Aise logo se... pic.twitter.com/3g3kXyVPMP

— Wahid Syed🇮🇳 (@wahidsyed99) June 6, 2018
According to Chandannagar, Hooghly Commissioner Ajay Kumar, the cops are currently in pursuit of the man and are trying their best to bring him to justice.
Also read: Video: Shocking! Man openly masturbates at 2 young girls in Kolkata bus; held after woman shared the video on Facebook