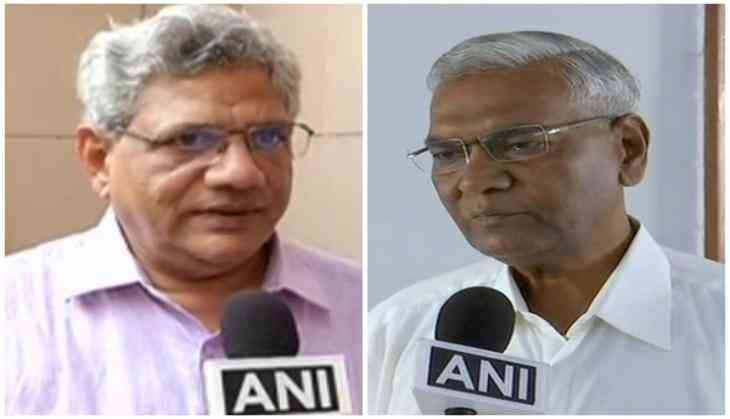 Sitaram Yechury_D raja (ANI)
Tripura is witnessing post-poll incidents of violence following the ouster of the Manik Sarkar government in the state.
In the wake of the sporadic violence, Section 144 has been imposed in several areas, prohibiting the assembly of four or more people.
Two days since the Tripura Assembly election results were announced, the CPM and BJP have blamed each other for the clashes perpetrated by their supporters.
On Monday, in Belonia town, BJP workers and supporters have allegedly brought down a statue of Lenin with the help of a JCB.
In response to it, the leaders of the Communist Party of India (CPI) situated out of Tripura have expressed their anger over the demolition of the Lenin statue and further condemned the violence at Tripura.
The CPI leader D. Raja refused to accept the instances of violence in a democratic country.
He told ANI, "I strongly condemn this violence; this is not acceptable in a democracy. We are a multi-party democracy, some parties win and some lose, does not mean they can resort to vandalism".
"Violence like the demolition of Lenin statue will take place. Law needs to take its course "he added.
The CPI general secretary Sitaram Yechury further said that the on-going violence points towards a bleak political future of RSS-BJP in the state.
"It is well-established from the on-going protests at Tripura that people of the state do not support them. Expect from inciting violence there is no further political future of the coalition. The citizens of Tripura shall give make them understand the same" Yechury told ANI.
The Bhartiya Janata Party in coalition with the Indigenous People's Front of Tripura (IPFT) has come to power in Tripura.
--ANI