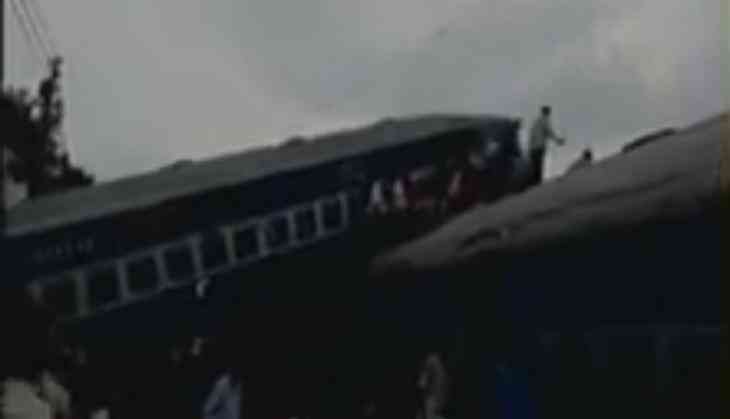 'Saw four-five men died on the spot': Utkal train derailment victims recall ordeal
"Some were rescued out of the coaches, while some were stuck; some lost their legs and a few lost their hands, while some suffered fractures," said Dilip Singh Yadav from Gwalior.
Yadav is among the many people who were injured in the derailment of Puri-Haridwar-Kalinga Utkal Express that took place yesterday evening in Khatauli near Muzzafarnagar, about 115 kilometres from Delhi.
23 people lost their lives, while at least 97 passengers were injured after fourteen coaches of the high-speed Utkal Express jumped the rails, with one of them crashing into a house adjacent to the track near Khatauli in Uttar Pradesh.
Another passenger, Kavita Sen, from Gwalior, who is admitted in a hospital along with her daughter, called the incident "horrifying."
"I reached for my daughter when I got into my senses, but she was trapped. When I looked around, more people were lying there," she recalled.
Talking about the incident, a relative of a wounded passenger detailed the moment when the news was broken to his parents, saying that the duo started crying after receiving the phone call near 6.30 pm.
Ram Singh Sarwar, who suffered fractures in his ribs, said that he was travelling in S1 coach when there was a "sudden loud jerk" and four-five men near him died on the spot while another said that the derailment appeared like "chain-pulling."
The train was coming from Puri in Odisha and going to Haridwar in Uttarakhand, normally a journey of about 36 hours.
The coaches damaged were S1 to S10 sleeper class, third AC B1, second AC A1 coach and the pantry. Muzaffarnagar authorities have set up a control room to assist families of those affected. The numbers are: 0131- 2436918, 0131-2436103 and 0131-2436564.
-ANI