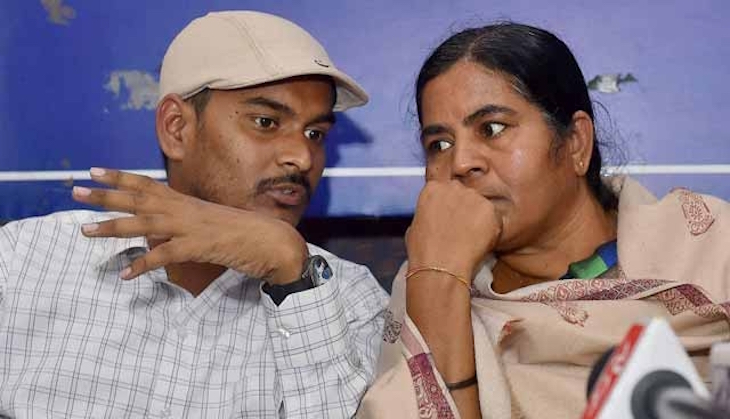 On the occasion of the 125th birth anniversary of Dr BR Ambedkar, the family of Dalit scholar Rohith Vemula - who committed suicide at Hyderabad University in January over caste discrimination - converted to Buddhism on 14 April.
A ceremony was conducted at Ambedkar Bhavan in Mumbai and was initiated by Prakash Ambedkar, the grandson of Dr BR Ambedkar. Raja and Radhika Vemula were given the "deeksha" by Buddhist monks.
Raja Vemula issued a statement saying that ensuring the replacement of Vice-Chancellor of Hyderabad University, Appa Rao, was of primary importance to him. He also stressed on the importance of setting up a SIT to investigate the suicide of his brother Rohit.
This is his full statement:
"Jai Bheem
If my brother Rohith Vemula were alive, he would have been proud of the step we have taken today.
From today, my mother, Radhika Vemula and I are going to start the kind of life that Rohith always dreamt of.
The kind of life that Babasaheb Ambedkar wanted us to lead. A life without blind belief. A life based on faith in humanity and not faith in some unknown God. A life based on compassion and respect for fellow human beings. A life of dignity and self respect. A life outside the Hindu caste system.
From today, my mother and I will be truly free. Free from shame. Free from daily humiliation. Free from the guilt of praying to the same God in whose name our people have been tortured for centuries.
From today, my mother and I will always remember the birthday of Babasaheb as the day we got our azaadi from the chains of the caste system.
My brother was extremely keen that our family should follow the path of Buddha. Last November, when he came home to Guntur to attend his best friend Riyaz's wedding, Rohith anna was dressed in white clothes. When my mother asked him, he said that he had been deeply impressed with the teachings of the Buddha. He said he was wearing clothes that are Buddhist.
He also spoke to us a lot about why Ambedkar had chosen to convert to Buddhism in 1956. He tried to explain what Babasaheb meant when he said that the might have been born as a Hindu but will not die as a Hindu.
At that time we were unable to see the value of what my brother was trying to say. But his death has opened our eyes to the reality of the world around us.
I'm a very simple man, I am here in front of you today because of the ultimate sacrifice made by my brother Rohith Vemula. But now that I am here, I want to caution the people responsible for my brother's death that I will continue his fight till my last breath. And I am not alone. An entire generation and nation has stood up to continue Rohith's fight.
Together, all the people fighting for justice for my brother are asking just one simple question. Why doesn't Prime Minister Narendra Modi say a single word about the HCU Vice Chancellor Appa Rao? When he can shed tears from my brother, why can't be make a single proper statement about the people responsible for his death.
Our demands are simple. We want Appa Rao to be sacked and arrested. We want a proper investigation into my brother's death by a Special Investigation Team of the Telangana government. We have no faith in the single-man commission of enquiry appointed by the Modi government.
We are hopeful that Telangana Chief Minister KCR might join the search for the truth behind Rohith's death. The real political culprits however are the BJP leaders Venkaiah Naidu, Smriti Irani and the Prime Minister himself.
We know the fight is going to be long and hard but we feel strong and hopeful because the spirit of Ambedkar, Buddha and my brother Rohith Vemula is with us.
Jai Bheem
Raja Vemula"