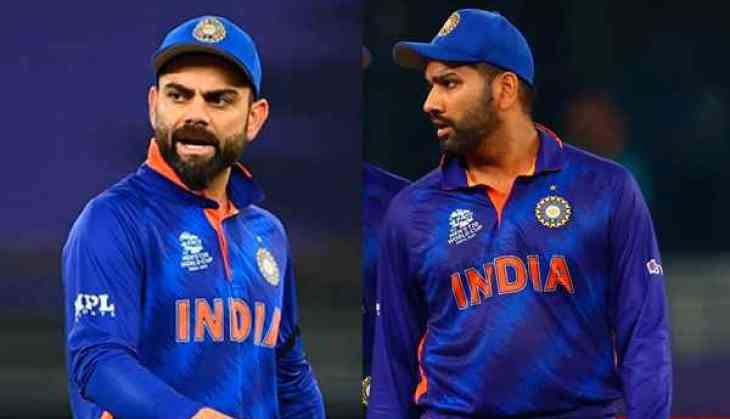 virat kohli, rohit sharma
Indian cricketers Virat Kohli and Rohit Sharma are both shining stars of modern era cricket. They have different strengths and are both geniuses in their own way. There has been a long-standing debate among veteran cricketers and fans about who is better between the two. However, Pakistani pacer Sohail Khan has recently entered the debate and provided a staggering explanation.
Taking side of Rahit Sharma, Khan said on a Youtube podcast that he admires the technique of the batsman from a bowler's perspective and hence considers him as a 'far batter batsman'.
Sohail Khan said it while recalling 2015 World Cup match against India, his only ever appearance against the Men In Blue, where he had picked a career-best 5 for 55. He also hailed Kohli as a 'big batsman' during the podcast.
Crime News: MP Shocker: 16-year-old raped, murdered 58-year-old woman over phone theft allegation
"I respect Kohli because he is very big batsman. But as bowler, I feel Rohit Sharma is a far better batsman than him. His technique is superb. He plays the ball very late, like he has all the time in the world," he said.
Not only that, the Pakistani pacer also silenced the anchor when he spoke about Rohit's recent struggles in white-ball cricket. 'He has dominated world cricket for the last 10 to 12 years,' Khan said.
When asked about how Sharma is better than Kohli, Khan explained that the India captain has the ability to score runs purely with his bat while the former captain uses his fitness to the best of his abilities to score runs even by running between the wickets.
"Kohli scores runs based on his fitness. If he scores one run, he is immediately ready for the next. Rohit doesn't do that. He scores one run and doesn't even try for the next. Rohit scores with his bat. Kohli scores with his bat and by running between the wickets. Again, that is a good thing because when you are that fit, you reflects automatically," he said.
Sohail Khan was last appeared in the international cricket in 2016.