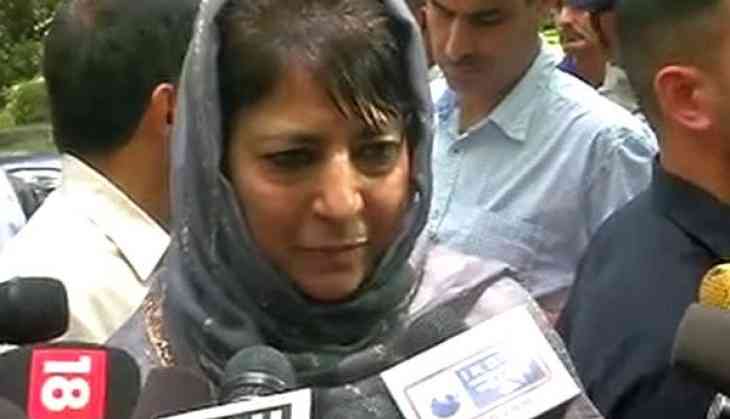 Jammu and Kashmir Chief Minister Mehbooba Mufti on 29 July appealed to the Centre to revive the Lahore Declaration for restoring peace in the Valley.
"I appeal Centre to revive Lahore Declaration so that we can live peacefully in Jammu and Kashmir," Mufti said.
She further asserted that trade routes with Pakistan shouldn't be blocked, instead there should be crackdown on drugs and Cannabis which are smuggled from there.
The Chief Minister's statement comes a day after she had warned the Central Government against diluting Article 370, which grants special status to the state.
"Any changes in the Article 370 will not be acceptable. I won't hesitate in saying that nobody will even hold the Tricolour in Kashmir if the article is scrapped," she said at an event yesterday.
The Lahore Declaration is a bilateral agreement and governance treaty between India and Pakistan which was signed in 1999 before the Kargil war.
The treaty, signed by then Indian Prime Minister Atal Bihari Vajpayee and his Pakistan counterpart Nawaz Sharif.
A mutual understanding for development of atomic arsenals and to avoid accidental and unauthorized operational use of nuclear weapons was developed in the treaty.
Meanwhile, the Centre has condemned Mufti's recent statement on the Indian flag where she said that if Kashmir's special status is tampered with, no one will shoulder Indian flag in Valley.
"This is the most shocking and ridiculous statement which Mufti has made. Tricolour is sacrosanct to us. It will fly high in Jammu and Kashmir as much as it does in any other state of the Indian Union. Being in power does not make one misuse it!" Minister of State in the Prime Minister's office (MoS PMO) told ANI.
-ANI