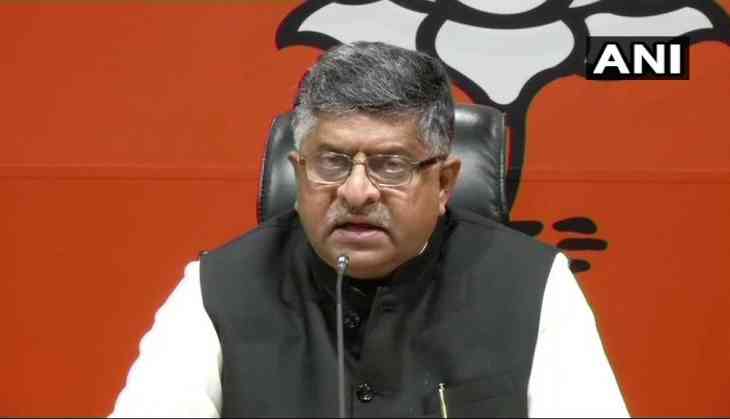 Bharatiya Janata Party (BJP) leader Ravi Shankar Prasad on Friday launched an attack on Congress President Sonia Gandhi over the violence in the national capital, stating that the opposition leaders shouldn't speechify the central government about its responsibilities when her onw party's record is contentious.
"Shreemati Sonia Gandhi please don't preach us 'Raj Dharma' (Ruler's Duty). Your record is full of rapid violations, twists and turns for plain and simple vote bank politics," the senior BJP leader said.
"The BJP condemns in the strongest possible terms the pure politicking by the Congress party during such a sensitive issue where we all need to talk collectively about peace, harmony," he added.
Following her meeting with the President, Sonia Gandhi on Thursday had stated the Home Minister Amit Shah should be dismissed for 'abdicating' his responsibilities and both the centre and the state government had been 'mute spectators' to the violence that had left at least 42 dead.
"Rashtrapati ji you are given the highest possible responsibility under the Constitution of India: to act as the conscience keeper of this Government and to remind it of its Constitutional duty and the pillars of Raj Dharma, by which any just government must abide," the Congress said in a memorandum to the President.
Former Prime Minister Manmohan Singh, who was also part of the Congress delegation, stated, "We urged the President to use his power to protect Raj Dharma."
Over four days since Monday, the violence in the national capital took a communal turn and the police were accused of failing to curb rioting on the roadway, arson and stone pelting.
Hitting out at the ruling BJP and the Aam Aadmi Party, Sonia Gandhi stated, "The centre and the newly-elected Delhi government were mute spectators to the violence."
The Union Law Minister also reacted to criticism about the part played by Kapil Mishra's inflammatory speech for triggering the violence and the failure of the Delhi Police.
"Senior party leaders have publicly condemned it (Mr Mishra's speech)," Mr Prasad said, adding "The Home Minister was proactive since Day 1. Action will be taken against those responsible."
Also Read: Delhi HC issues notice to police, centre on plea seeking FIRs against Rahul Gandhi, Priyanka, Asaduddin Owaisi
Also Read: Manoj Tiwari reacts to Arvind Kejriwal's remark, says 'not just councillor, Delhi CM should also be punished for violence'