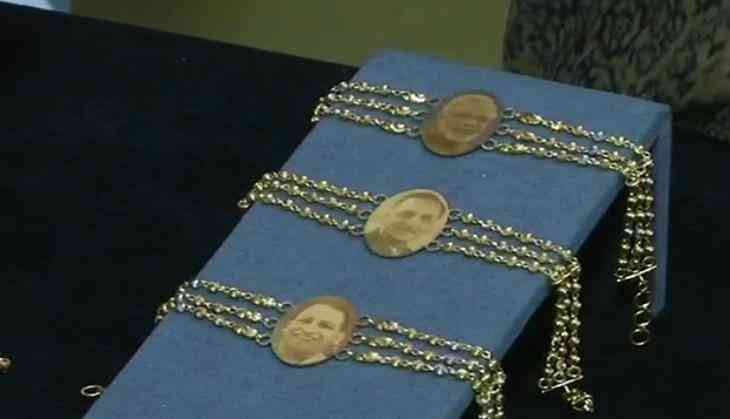 One of the beautiful festivals of love and divine, Raksha Bandhan has arrived when sister ties holy thread with various design on her brother's wrist. Well, a jewellery shop in Gujarat's diamond city Surat has come up with something unique designer Rakhis with pictures of Prime Minister Narendra Modi, Yogi Adityanath and Vijay Rupani encased in gold on them.
Yes, the rakhis with pictures of Prime Minister Narendra Modi, UP CM Yogi Adityanath and Gujarat CM Vijay Rupani cost around Rs 50,000 to 70,000. Now, you'll be shocked to know the price so let us tell you these Rakhis are made of 22-carat gold, are selling like hot cakes, claims the jeweller.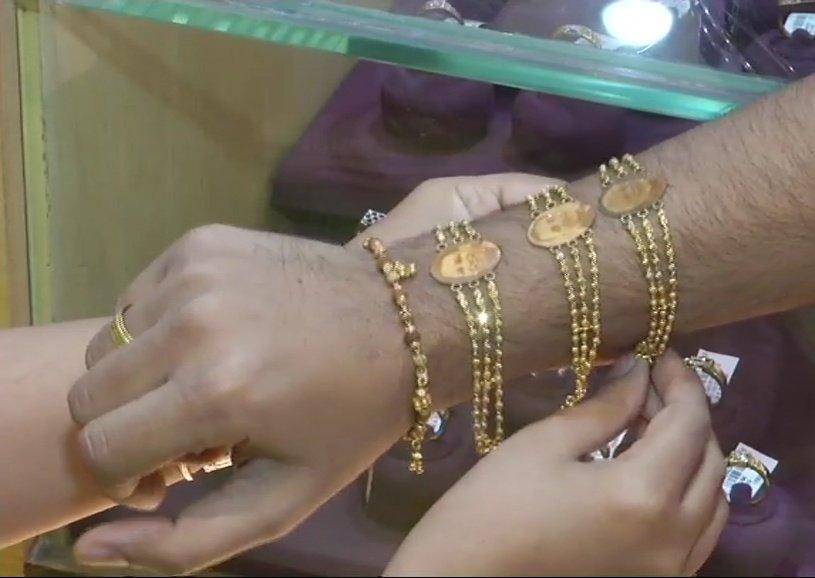 "By tying this Narendra Modi rakhi I would bless my brother to do something great like Prime Minister Modi," said Shraddha Shah one of the customers said.
The jeweller said, he had 50 such rakhis designed and made and as many as 47 of them have been sold out, and orders are still pouring in. "Our Prime Minister Narendra Modi, the Gujarat Chief Minister and the Uttar Pradesh Chief Minister have done very good work for our country and they inspire millions across the world," said the jewellery shop owner Milan.
Not only the first golden rakhi with pictures of top BJP leaders embossed on them, Surat has also witnessed rakhi ladoos covered with 22 carat gold foil being sold at Rs. 9,000 per kilo for the special occasion.
Raksha Bandhan is a festival celebrated in terms that by tieing the holy thread on brother's wrist sister ask him to promise her to protect her always and stand for her whenever she need him.
Also read: Kerala Floods: CM Pinarayi Vijayan announced transfer of this amount into the bank account of every person in the relief centres