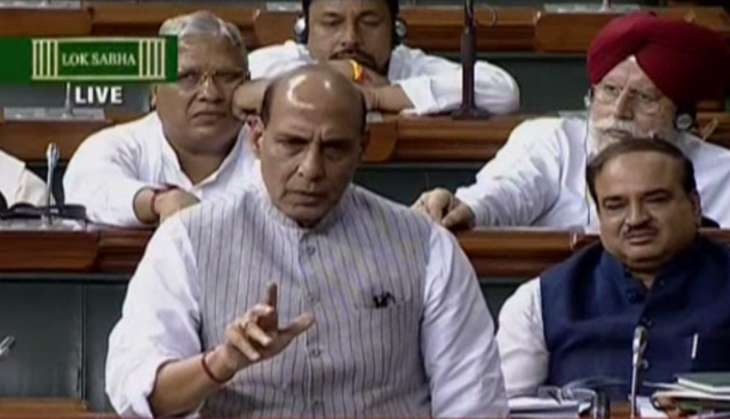 Urging all Opposition parties to unitedly tackle the ongoing turmoil in the Jammu and Kashmir, Union Home Minister Rajnath Singh on Thursday said the Valley is an integral part of India and Pakistan must fix its internal matters rather than trying to destabilise India.
"Prime Minister Narendra Modi has always been closely monitoring the situation in Jammu and Kashmir and in discussion with us. India is united in its stand that Jammu and Kashmir is an integral part of our country. Unity in diversity has always been our strength despite Pakistan's attempts to destabilise us. Pakistan instead of fixing its internal matters is trying to destabilise India," Singh said in the Lok Sabha.
"The Kashmir issue needs to be dealt with collectively. Everyone needs to partake in the responsibility of making the situation better. No government can solve the Kashmir issue on its own," he added.
Invoking Bharatiya Janata Party (BJP) veteran leader and former prime minister Atal Bihari Vajpayee in the Lok Sabha, Singh warned Pakistan with "chingari ka khel bura hota hai".
He added that both Prime Minister Narendra Modi and he had asked the armed forces to exercise maximum restraint on the use of pellet guns in Kashmir.
"We will constitute an expert committee to review the use of pellet guns for crowd control. Only non-lethal weapons should be used in such situations. Our practice is to use non-lethal weapons in such situations but yes, we have to find alternatives to pellet guns. Had spoken with Jammu and Kashmir Chief Minister who assured that the curfew situation is coming under control and she will be in Delhi shortly," the Home Minister stated.
Singh also said that people following Islam in India is not something Pakistan needs to worry about.
-ANI