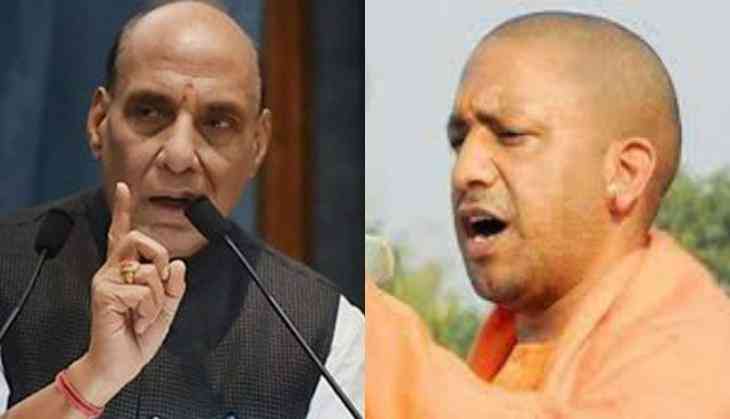 Union Home Minster Rajnath Singh on Thursday congratulated Uttar Pradesh Chief Minister Yogi Adityanath for the launch of state government's flagship 'Krishi Rin Mochan Yojna' (farm loan waiver scheme).
Singh, who attended the event as chief guest lauded the Uttar Pradesh Chief Minister for meeting the demands of farmers through the scheme.
"During the Uttar Pradesh assembly elections we had promised to waive farmers' loan. At that time many media persons said that political leaders never fulfil the promises they made in elections. This doubt was natural. Because of the double standard of some political parties people have lost their faith in us. But I would like to congratulate the Uttar Pradesh Chief Minister for not making false promises and successfully waiving crop loan of small and marginal farmers. This day is no less than any festival for farmers," he said in Lucknow.
Recounting the pro farmers' schemes launched by the Narendra Modi-led Central government said, "Prime Minister had promised that the income of farmers would be doubled by 2022. It will be done.Under Pradhan Mantri Fasal Bima Yojana farmers have to pay only 1.5 percent premium for Rabi crops, two percent for Kharif and five percent for commercial and horticultural crops. Less premium, more insurance."
Adityanath was also present at the launch event.
In April, Adityanath had approved the scheme to waive crop loan of small and marginal farmers subject to a ceiling of Rs.1,00,000.
-ANI