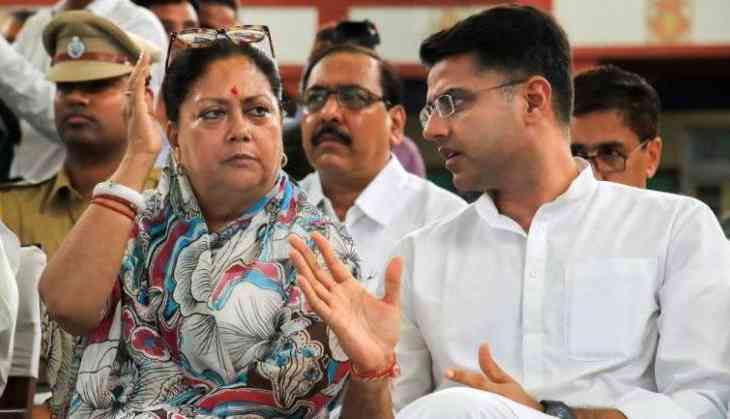 In the assembly election of 2018, Rajasthan has been at the center point of discussion due to the rising anti-incumbency and the inner conflicts in the BJP.
As per reports, CM Vasundhara Raje had objected the new BJP state president who was being appointed by the party president Amit Shah but at the end of the story, it was Raje who had the last laugh.
But the lynching of Pehlu Khan, rising inflation, high rate of unemployment and the issue of fresh drinking water has been affecting the towering figure of the BJP and the cow slaughter has become a national issue to tamper with its image.
#Rajasthan CM Vasundhara Raje on Sharad Yadav's remark 'Vasundhara (Raje) ko aaram do, thak gayi hain, bahut moti ho gayi hain': To set an example for future it's important that EC takes cognisance of this kind of language. I actually feel insulted&I think even women are insulted pic.twitter.com/dNCO0QLTDX

— ANI (@ANI) December 7, 2018
Now, the BJP, which has fielded only one Muslim candidate Yunus Khan from Tonk constituency, is hoping to divide the Congress' vote base as the latter has fielded Sachin Pilot from Tonk.
It was a Muslim princely state earlier and has been in the dominance of the Muslims but this time around, Congress has fielded its probable CM candidate and to counter it, BJP came up with Yunus Khan.
During the release of Padmavat, the violence and protests of Karni Sena had effected the state at and nation at a huge level and deteriorated the peace and balance of society. Post this, the BJP had lost the by-polls in Ajmer and Alwar as it was projected that Rajputs sentiments were effected.
Today, Union Minister Rajyavardhan Singh Rathore casted his vote and said, " Every single vote counts. We have to cast our vote today by thinking who is actually taking the nation forward."
Earlier, CM Vasundhara Raje had reacted to the comments of senior leader Sharad Yadav, who had body-shamed her. Raje said, "Vasundhara (Raje) ko aaram do, thak gayi hain, bahut moti ho gayi hain': To set an example for future it's important that EC takes cognisance of this kind of language. I actually feel insulted&I think even women are insulted."
Also read: Telangana Election 2018: Will AIMIM's Asaduddin Owaisi play the kingmaker or anti-incumbency will
Union Minister Rajyavardhan Singh Rathore in Vaishali Nagar, Jaipur: Every single vote counts. We have to cast our vote today by thinking who is actually taking the nation forward. #RajasthanElections2018 pic.twitter.com/P0GI0TB7T1

— ANI (@ANI) December 7, 2018