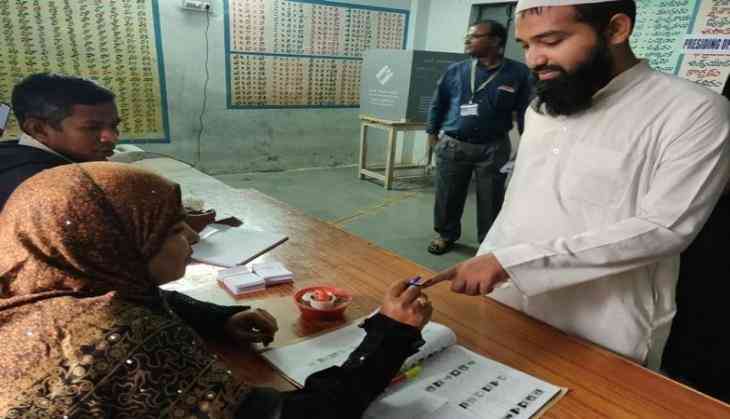 Polling has begun to decide the fate of over 2,000 candidates across 199 Assembly constituencies in Rajasthan. It is scheduled to end at 5pm today.
Elections will take place at 51,667 polling stations where 4,74,79,402 people will cast their vote. Out of the 200 constituencies in the state, polling is being held in 199. Voting in Alwar constituency was countermanded following the death of a Bahujan Samaj Party (BSP) candidate.
The fight is to win a target of at least 101 seats to achieve majority mark in the intense polling between the Bharatiya Janata Party (BJP) and Congress.
In 2013 assembly elections, BJP won the mandate with 163 seats, while Congress was reduced to 21 seats. This year, Vasundhara Raje, the state's incumbent chief minister, is facing a tough fight from the Congress, which has not left any stone unturned to muster support while attacking the state government over its various initiatives.
On the one hand, Congress has kept its card close to the heart as far as a chief ministerial candidate is concerned. However, it is being speculated that Rajasthan Congress president Sachin Pilot and former Rajasthan chief minister Ashok Gehlot are reportedly considered the main contenders.
On the other hand, BJP is pinning its hopes on Raje, who has been hailed time and again for her work in the state by Prime Minister Narendra Modi and BJP president Amit Shah.
Besides Raje who is contesting from Jhalrapatan, other top contenders include state Home Minister Gulab Chand Kataria from Udaipur, Rajendra Rathore from Churu, state party president Ashok Parnami from Adarsh Nagar and Anita Bhadel from Ajmer South.
Meanwhile, Congress has fielded former MP Rameshwar Lal Dudi from Nokha, Sachin Pilot from Tonk, Ashok Gehlot from Sardarpur and former Rajasthan minister Hemaram Choudhary from Gudha Malani.
Elaborating on the arrangements made for the elections, Director General of Police OP Gehlotra said on Thursday that preparations for the polls were initiated in June itself.
"Since June, we have taken into custody 2,11,869 warranties. We registered 3,695 cases under Arms Act and arrested 3,653 criminals and recovered 4,156 arms. In a record, we have taken into custody 10,07,467 litres illicit liquor from across the state. During this exercise, as many as10, 209 criminals were arrested," he added.
7,791 polling booths in the state have been identified as "sensitive", owing to which paramilitary forces have been deployed. In total, 1,44,941 constables and head-constables will be on duty under the supervision of around 1,500 senior officials, Gehlotra said.
The counting of votes will be held on December 11.
-ANI