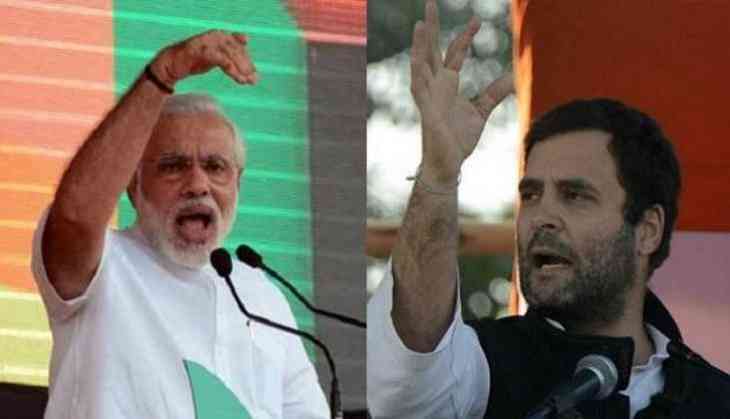 PM Narendra Modi and Rahul Gandhi
PM Narendra Modi has attacked the Congress party over the "lack of vision" for its leaders as he has brought in the debate of Kartarpur during the election rally.
On the last day of election rally in Rajasthan, PM Modi has attacked the Congress leaders saying that the Kartarpur Sahib Corridor went to Pakistan because of leaders who never had a vision to foresee the events and act accordingly.
PM Modi said, "Kartarpur went to Pakistan due to lack of vision and insensitivity of the then Congress leaders."
PM Modi at the rally said, "Kyun Congress ko 1947 mein yaad nahi aaya ki #Kartarpur Hindustan mein hona chahiye? Kyun 70 saal mein nahi kiya? Aaj agar corridor ban raha hai to iska credit Modi ko nahi aapke ek vote ko jaata hai ."
As Rajasthan goes to poll on December 7, the campaigning has now come to an end but the pitch to attack each other still remains at high. Now, PM Modi whose Cabinet had earlier given a sanction to build a corridor along the Kartarpur, has alleged that it could have been a part of India had there been a supportive and visionary government at the center.
After External Affairs Minister Sushma Swaraj declined the request of Pakistan's Foreign Minister Qureshi to attend the ground breaking ceremony of Kartarpur Corridor, she had sent union minister Hardeep Singh Puri to the event, who had represented India along with Akali Dal's Harsimrat Kaur Badal.
Puri said, "Kartarpur Corridor should have been operationalised many years ago. The cartographer who made the (boundary) line made a fundamental mistake."
The Kartarpur Corridor, to which PM Modi referred to as the bridging gap between the two nations, had also compared it with the Berlin wall, which eventually fell bringing the West and East Germany together.
Also read: Delhi: Shocking! 16-year-old boy and his cousin shot and injured in pub after DJ refused to play songs
PM Modi in Rajasthan's Hanumangarh: Kyun Congress ko 1947 mein yaad nahi aaya ki #Kartarpur Hindustan mein hona chahiye? Kyun 70 saal mein nahi kiya? Aaj agar corridor ban raha hai to iska credit Modi ko nahi aapke ek vote ko jaata hai ( pic source: BJP) pic.twitter.com/sfUhw2JTNx

— ANI (@ANI) December 4, 2018