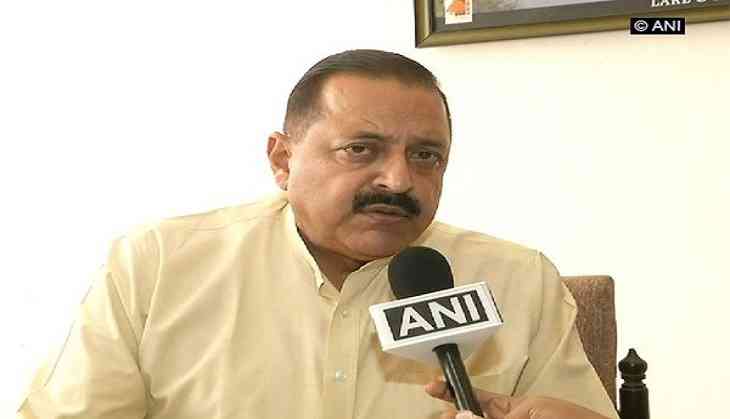 Union Minister of State Dr. Jitendra Singh said that Congress vice president Rahul Gandhi and Patidar Anamat Andolan Samiti (PAAS) convenor Hardik Patel bonhomie is to hoodwink people of Gujarat.
Hardik Patel on Thursday said that the PAAS will extend its support to the Congress in the upcoming Gujarat Assembly elections only if their reservation demand is met.
Talking to ANI, Singh, "Few days back when I was asked about Hardik and Rahul bonhomie, I made an observation that one loser trying to clutch on the other loser which might ultimately spell the dome. Now, the nation must question the Congress party that what is their stand on what Hardik says; what is their stand on the OBC quota. And therefore just hoodwinking the people of India, particularly the people of Gujarat on the eve of elections, is not going to work."
He further added, "India 2017 and Gujarat 2017 has population below 40 and majority of voters ask for evidence and reasoning. This is the reason that PAAS committee has in fact questioned the stand of Hardik, Rahul and Congress. This vindicates what the BJP stands for."
Six social organisations of the Patidar community have slammed Hardik Patel's demand seeking reservation for Patidars under the OBC category.
The heads of the six organisations have come on the front foot against the Patidar leader's demand to include the Patels in the OBC and give reservation to the community for education and jobs.
The organisations that are opposing Hardik's demand, include Umiya Mata Sanstha from Unjh, Khodaldham Kagwad in Rajkot, Vishwa Umiya Foundation, Samast Patidar Samaj in Surat, Umiya Mataji Mandir in Sidsar and Sardar Dham in Ahmedabad.
Earlier in the day, Hardik told ANI that "if the Congress takes steps in support of our issue (reservation), we will directly or indirectly support the party... The andolan is still on".
He informed that Congress vice president Rahul Gandhi came to meet him on Diwali.
When asked if he is going to join the Congress to pursue the reservation issue, the PAAS convenor said, "I am not going to join any political party for the next two and a half years. Rahul visited to wish me during Diwali like any other people who come to meet me," said Patel.
Hardik's reservation demand has come in the wake of the upcoming assembly election in Gujarat, wherein the Congress party is trying to woo the Patidar community.
The Congress is counting on the Patidar votes to sway the election results of Gujarat polls in their favour and uproot the Bharatiya Janata Party (BJP), which has been in power since 1995 in the state.
The polls will be conducted in Gujarat in two phases. The polling for the first phase will be held on December 9 and for the second phase on December 14.
The counting of the votes will be held on December 18.
-ANI