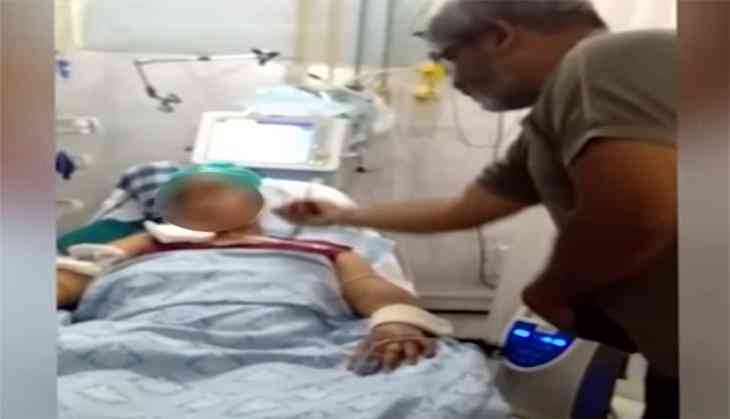 Doctors are called another face of God and what if the doctor behaves inhumanly with patients. In a Shocking incident, a senior gynecologist lands into trouble after he allegedly brought a 'Tantrik' a godman in the ICU to ward off the evil from the patient's body. The woman was admitted to the hospital to get treatment for a lump in her chest.
This horrifying incident happened in a hospital in Pune where patient name Sandhya Sonawane approached Dr. Satish Chavan, a senior gynecologist, who runs a private hospital.A 24-year-old was admitted to the ICU in a critical condition.
The patient and her relatives were unknown to that the doctor has called in a godman while the patient was in the ICU.
As reported by Mumbai Mirror, the family members were not informed of this beforehand and were taken aback by this weird incident. They said,
"We didn't have any prior knowledge about it, so we recorded the whole incident on mobile."
"The doctor is believed to have observed 'yamkal' [time of death] before the supposedly propitious hour to perform the surgery. Both his operations were botched and the second resulted in tremendous bleeding of the patient. We demand that his license be canceled and he is investigated," Nandini Jadhav of the MANS told The Hindu.
The video of a godman performing ritual, waving some items around the woman has gone viral. while a man can be seen standing by, not doing anything about this.
On Munday, unfortunately, the patient died due to multiple organ failures and the hospital has denied any involvement in the entire incident.
According to recent developments, DNA reports that a case has been registered by the relative at Alankar police station late night on Tuesday. Dr. Chavan and the godman have been booked under sections of the Maharashtra Prevention and Eradication of Human Sacrifice and other Inhuman, Evil and Aghori Practices and Black Magic Act, 2013. However, both of them are currently absconding.