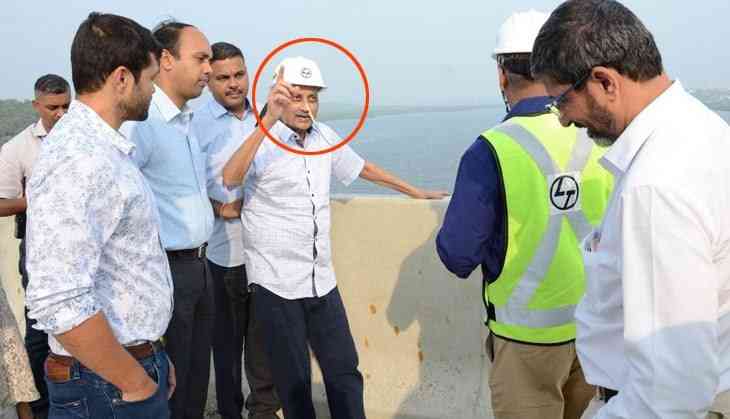 Ailing Goa CM Manohar Parrikar, who has been critical and under treatment from a long period of time, was seen yesterday inspecting a bridge with doctors by his side.
It was his first public appearance since the time he was admitted in the hospital and the senior BJP leader was suffering from the pancreatic condition.
Parrikar inspected the bridge which is still under construction on the Mandovi river and further he inspected another bridge which was over Zuari river near the capital Panjim.
National Conference leader Omar Abdullah tweeted saying, "He has a tube inserted through his nose into his digestive tract. How inhuman to force him to continue working & doing photo ops. Why can't he be allowed to deal with his illness without all this pressure & tamasha?"
Goa Chief Minister Manohar Parrikar inspects the construction of Zuari Bridge & third Mandovi bridge. pic.twitter.com/2dcyp2ZLxN

— ANI (@ANI) December 16, 2018
The bridge, which is still under construction will get completed until next year but working in an ailing condition has become a daily routine for the Goa CM and its a pity for the BJP that they are not able to come up with an alternate face for Goa and let the Parrikar take a complete rest, until he returns to office fit and fine.
Congress spokesperson Priyanka Chaturvedi said, "Is that a tube that is inserted in his nose? Can a party be so power hungry to make a man work despite his illness? With BJP impossible is nothing....to grab power, latch on to power. Take care CM Saab, because clearly, your party won't."
In defense, the BJP's Gaurav Bhatia said, "How inhuman to do politics over someone's illness This picture speaks a thousand words, it conveys the strong commitment of Shri @manoharparrikar ji for our country.Feeling of serving the people comes from within but netas like you who eulogize Burhan Wanis will not understand."
Also read: Congress' CM designate Ashok Gehlot, Sachin Pilot, Kamal Nath to take oath today; all eyes on
How inhuman to do politics over someone's illness This picture speaks a thousand words, it conveys the strong commitment of Shri @manoharparrikar ji for our country

Feeling of serving the people comes from within but netas like you who eulogize Burhan Wanis will not understand https://t.co/cjoiSCWyUx

— Gaurav Bhatia 🇮🇳 (@gauravbh) December 17, 2018