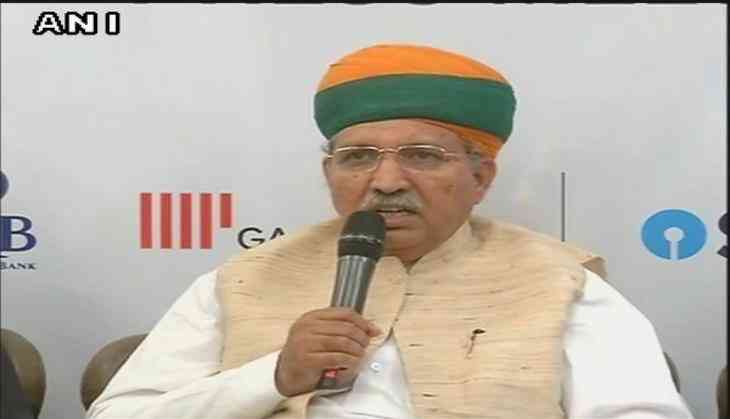 Minister of State for Finance Arjun Ram Meghwal on Wednesday said the post- Goods and Service Tax (GST) tax base will increase, but the degree by which it increases cannot be predicted.
"Post-GST tax base will increase, but we can't predict by how much and as the tax base revenue will also increase," Meghwal said.
Meghwal said the after the implementation of GST, indirect tax would be reduced and India would be a corruption-free state.
The GST will be rolled out from midnight of June 30 in the presence of several dignitaries including President Pranab Mukherjee, Vice-President M. Hamid Ansari and Prime Minister Modi, besides other luminaries.
Addressing media, Finance Minister Arun Jaitley on Tuesday said that he anticipated that the uniform tax system would help generate revenue and strengthen the Gross Domestic Product (GDP).
While asserting that post the GST roll out in the medium and long term, the spending capacity of Centre and states would increase, Jaitley predicted short term challenges for all sections of society.
"We anticipate over the medium and the long term, being a more efficient system which is prone to checking evasion, the revenues will grow. The spending capacity of the government at the Centre and the states will increase.
Consequently, it should have a positive impact on the GDP. We must be prepared for short term challenges on the GST rollout," Jaitley said.
He also cautioned that those states not implementing the GST from July 1 could face challenges and problems.
Elucidating the chronology of the programme organised to launch the tax system, Jaitley said the launch would take place at midnight, followed by the address of President Pranab Mukherjee and Prime Minister Narendra Modi.
Vice-President Hamid Ansari, Lok Sabha Speaker Sumitra Mahajan, all members of the parliament and the GST Council, chief ministers, officials who have assisted in the whole process, the chairpersons of the empowered committees and former prime ministers Manmohan Singh and H.D. Deve Gowda will be present at the event.
-ANI