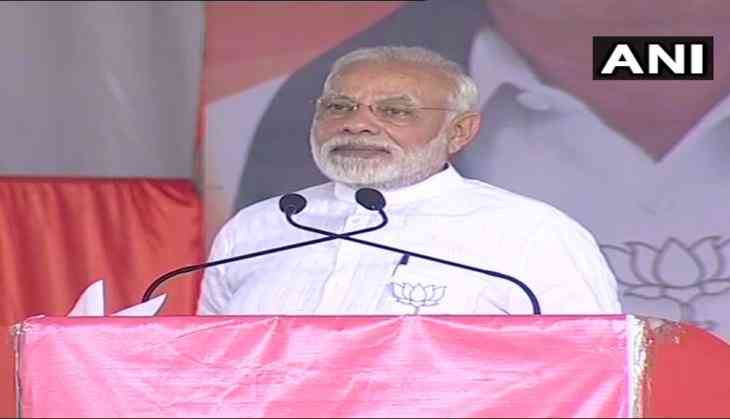 Launching fresh salvo against the Congress, Prime Minister Narendra Modi on Tuesday raised questions on the grand old party's stand on women empowerment, citing its opposition to the bill criminalising triple talaq.
Addressing a rally in poll-bound Karnataka, the Prime Minister said the National Democratic Alliance (NDA) Government was the one who has got a tough law to ensure safety of women, and added, "It is the Congress party that did not allow the law on Triple Talaq to be passed. How is the Congress even talking about women empowerment?"
The Congress took strong exception to the triple talaq bill and the lesser strength of the ruling Bharatiya Janata Party (BJP) in the Rajya Sabha prevented the bill's passage in the Upper House and hence, it could not be enacted.
"The Congress has never been serious about the safety of women. Here in Vijayapura, there was a case but what did the Congress government do? Northing," he added.
Prime Minister Modi slammed the Siddaramiah-led Karnataka government over the state of farmers, rural development, among other issues in the state, and stated that it was the Central Government which brought social security schemes for the poor as well as electricity to villages.
"The people of Karnataka have decided to punish the Congress party," Prime Minister Modi remarked, indicating imminent victory for BJP.
"Instead of going among the people, the Congress leaders are thinking about what excuses to make about a certain defeat. The reasons for their excuse will include faulty EVMs and other such reasons," the Prime Minister continued.
He further said that instead of taking the society together, the Congress is bothered about votes, "I am here in a land closely associated with Bhagwan Basaveshwara. His philosophy called for taking all sections of society together. Sadly, the Congress government has not followed his principles. All they are bothered about is their votes."
In his address, Prime Minister Modi accredited the saints, seers and mutts in playing a "key role in making the society of Karnataka progressive and harmonious," and for working to remove human suffering.
(ANI)