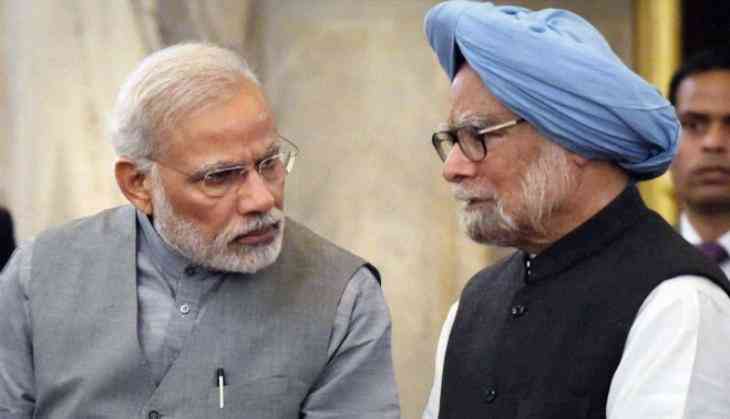 After former Prime Minister Manmohan Singh stated that the slogan 'Bharat Mata Ki Jai' is being put to wrong use to give rise to 'militant and purely emotional' idea about India the shuts out millions of its citizens, Prime Minister Narendra Modi has responded stating that now some people have difficulties even with saying 'Bharat Mata Ki Jai'.
Talking to the BJP's Parliamentary Board in Delhi on Tuesday, the Prime Minister stated earlier that people were expressing objection to 'Vande Mataram' but now they are also making a fuss about 'Bharat Mata Ki Jai'.
However, PM Modi did not name the former Prime Minister in his speech.
Launching an attack on Manmohan Singh, PM Modi told the BJP leaders, "We are the ones who are working for the country while some (opposition leaders) are fighting for their party's survival."
Speaking at an event on 22nd February, Manmohan Singh had stated that nationalism and the slogan 'Bharat Mata Ki Jai' are being misapplied to create a 'militant and purely emotional' notion of India that excludes million of citizens.
The former Prime Minister stated that if India is identified in the comity of nations as a vibrant democracy and, if it is considered as one of the important world powers, it was the first prime minister, who should be identified as the key architect.
"... unfortunately, a section of people who either do not have the patience to read history or would like to be deliberately guided by their prejudices, try their best to picture Nehru in a false light. But I am sure, history has a capacity to reject fake and false insinuations and put everything in proper perspective," he said.
Also Read: BJP's Babul Supriyo takes a swipe at Rahul Gandhi over PM Modi quitting social media
Also Read: Mamata Banerjee hits out at BJP, dubs Delhi violence as 'planned genocide'