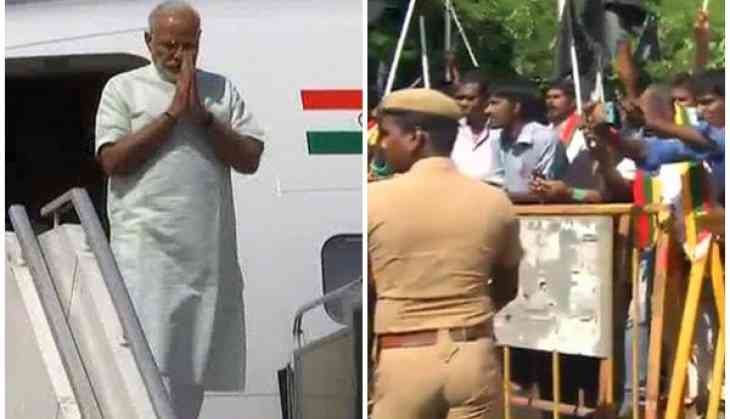 Prime Minister Narendra Modi was greeted with black flags and black balloons upon his arrival in Chennai on Thursday.
The protestors, who have been expressing their rage against the Centre for not constituting the Cauvery Management Board (CMB), reached the airport in Alandur area to protest against the Prime Minister's arrival to the city.
The black flag protests was organised by some opposition parties and Tamil outfits of the state. The idea was poposed by Dravida Munnetra Kazhagam (DMK) working president MK Stalin.
However, before Prime Minister Modi touched down in Chennai, some of the demonstrators, including Thamizhaga Vazhvurimai Katchi leader Velmurugan, were detained.
The Prime Minister is here to address the 10th edition of Defence Expo in the city.
On February 16, the court had ordered the Central government to set up the CMB and Cauvery Water Regulation Committee (CWRC) within six weeks, in regards to the Cauvery River water dispute between Tamil Nadu and Karnataka.
The non-compliance of the apex court's order has triggered protests across the state.
On Tuesday, some of the protestors were arrested after they tried to stop an IPL match held at Chennai's Chepauk Stadium.
(ANI)