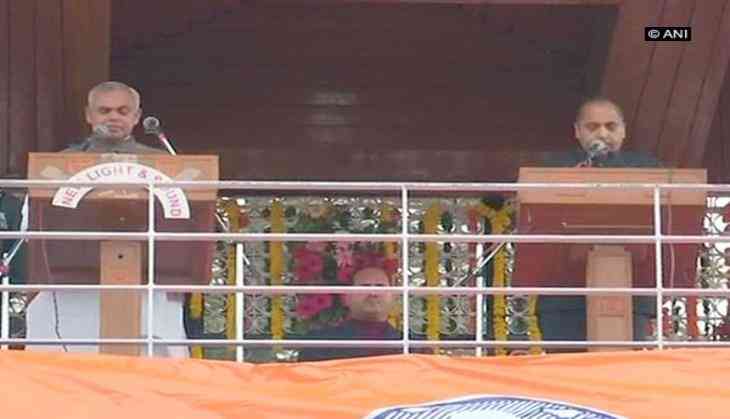 Set to be sworn in as the chief minister of Himachal Pradesh today, Bharatiya Janata Party (BJP) leader Jairam Thakur said on 27 December that people have shown faith in the saffron party.
Talking to media here, Thakur said, "I will try to meet their (people's) expectations. The public has shown immense faith in the BJP. The moment would have been more honourable if my father would have been present today. He passed away last year but my mother assured me that his blessings are always upon us."
His wife Sadhana Thakur said Jairam's win and selection for the top post was a victory for common man.
"There are a lot of expectations with this government that they will try and solve the problems being faced by the public," she added.
Meanwhile, the Historic Ridge ground in Shimla is all geared up for the swearing-in ceremony of the next Chief Minister.
The ceremony will take place in the presence of Prime Minister Narendra Modi and BJP's top brass at 11 am.
This is for the first time in Shimla when a Prime Minister will be present at the swearing-in ceremony of a chief minister.
Along with the Prime Minister, Union Home Minister Rajnath Singh, BJP chief Amit Shah, former deputy prime minister L. K. Advani and several union ministers and chief ministers will attend the ceremony.
Governor Acharya Devvrat will administer the oath of office and secrecy to Thakur.
Thousands of people are expected to witness the swearing-in ceremony. Massive security and other arrangements have been made for the grand function.
The BJP has ousted the Congress from power in Himachal Pradesh by winning 44 out of the 68 seats in the recently held Assembly polls.
-ANI