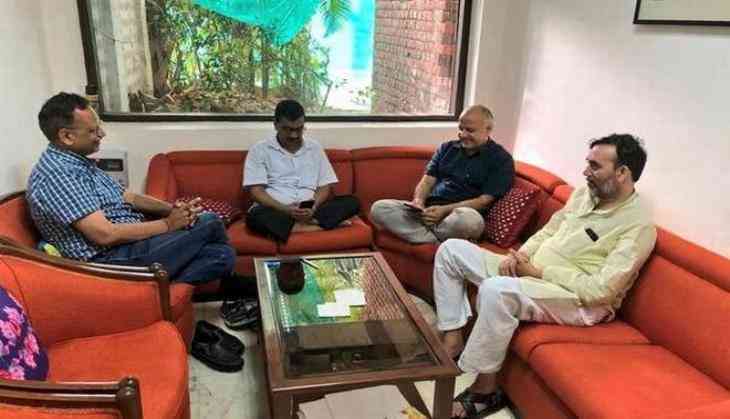 On Day 5 of Delhi CM Arvind Kejriwal and AAP Ministers indefinite hunger strike, four ambulances, driving a group of doctors arrived at Delhi Lieutenant Governor Anil Baijal's office on Friday afternoon. A Paramedics also suddenly reached the spot after a report suggesting that Delhi Chief Minister Arvind Kejriwal and his three ministers would be forcibly removed from the guest room where they have been protesting for the last four days.
According to reports, Delhi Deputy Chief Minister Manish Sisodia and Health Minister Satyendar Jain are on an indefinite fast for continuous fifth day respectively and have threatened to stop taking water as well in case of forceful eviction. However, a team of doctors have examined Deputy CM Sisodia and Satyendar Jain as well as Delhi Chief Minister Arvind Kejriwal.
On Friday morning, Arvind Kejriwal put out a video message attacking the BJP. In the video, he says: "Tell me one person who can say the strike of IAS officers is justified. I am surprised that it is the 5th day and the L-G is not ready to get it done. I cannot believe it."
Following it up with his second letter to Prime Minister Narendra Modi, he said: "I have told the LG and (deputy chief minister) Manish Sisodia wrote a letter to him (Anil Baijal) yesterday and even sent a message on WhatsApp. But, no response from his side. We got no response to the letter I wrote to the PM. So, today again I wrote to the Prime Minister."
Also read: Lok Sabha 2019 polls: Former UP CM Akhilesh Yadav to contest from wife's constituency Kannauj; Mulayam from Mainpuri