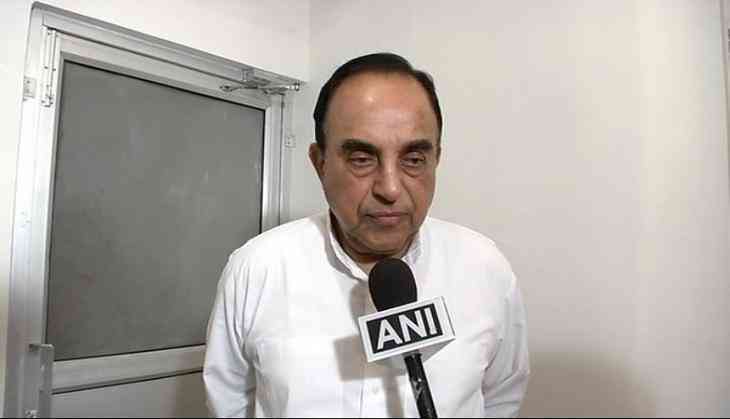 Bharatiya Janata Party (BJP) leader Subramanian Swamy on 28 December supported External Affairs Minister (EAM) Sushma Swaraj's stand in connection with former Indian Naval officer Kulbhushan Jadhav's meeting with his kin and said that Pakistan is not capable of any civilized action.
Swamy also averred that India must finish Pakistan's existence.
Speaking to ANI, the BJP leader said, "We welcome Sushma Swaraj's stand over meeting between Kulbhushan Jadhav and his family in Islamabad. It is excellently clear and she has taken the House into the confidence of what happened. But I, as an individual MP, can say that from my knowledge of history, just like Churchill was ultimately right about Hitler, I am right about Pakistan. They are not capable of any civilized action as the only action is war. We must finish the existence of Pakistan."
He added that now India cannot rely on Pakistan and any behaviour other than dismembering Pakistan will not solve the problem.
Earlier in the day, the External Affairs Minister EAM said Pakistan used Kulbhushan Jadhav-family meeting as propaganda.
She said this while making a statement on Jadhav in the Rajya Sabha.
The External Affairs Minister said Pakistan used emotional meeting between Jadhav, his mother and wife after 22 months as propaganda.
The entire House backed Swaraj by shaming Pakistan. She said Pakistan flouted all the understandings between the two countries over the meeting.
She also objected the way Jadhav's mother and wife were treated during their visit to Islamabad to meet jailed Jadhav.
Earlier on Wednesday, the Parliament witnessed protests, with various political parties, including the Shiv Sena, Trinamool Congress and AIADMK condemning the way Pakistan humiliated the kin of jailed Indian national Kulbhushan Jadhav in Islamabad.
The Ministry of External Affairs (MEA) on Tuesday said Pakistan disregarded the cultural and religious sensibilities of former Indian naval officer Kulbhushan Jadhav's family, who met him on Monday in Islamabad.
The wife and the mother of Jadhav were asked to remove mangalsutras, bangles and bindis, besides having been asked to change their attires, for "security" reasons.
After the meeting, Jadhav's mother and wife were also harassed in heavily guarded foreign ministry office by Pakistani journalists.
Adding to these treatments, Pakistani journalists heckled and harassed Jadhav's mother and wife by hurling insensitive questions on them - "Aapke patidev ne hazaron begunah Pakistaniyo ke khoon se Holi kheli ispar kya kahengi? (your husband killed thousands of innocent Pakistanis, what do you have to say about that?)'" and "Aapke kya jazbaat hain apne kaatil bete se milne ke baad? (How do you feel after meeting your killer son?)".
Jadhav is on a death row in Pakistan over charges of terrorism and spying for India's intelligence agency- Research and Analysis Wing (RAW).
On 18 May 2017, the International Court of Justice stayed the hanging after India approached it against the death sentence.
-ANI