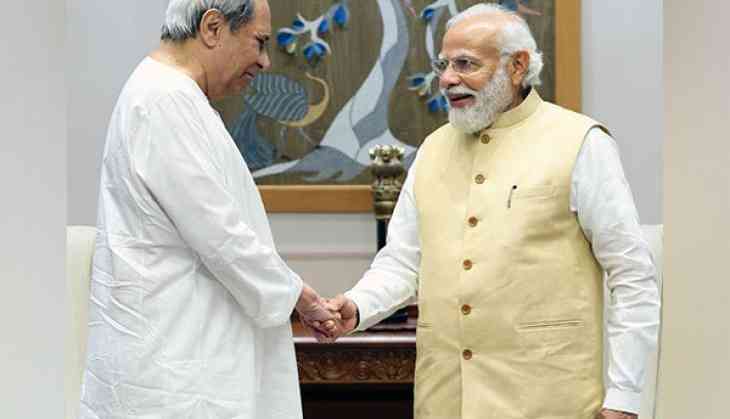 Odisha CM Naveen Patnaik meets PM Narendra Modi (ANI)
New Delhi: Odisha Chief Minister Naveen Patnaik has requested Prime Minister Narendra Modi to "expedite' the process of the site clearance of Sri Jagannath Puri International Airport (SJIA) from the Ministry of Civil Aviation that is pending since September last year.
Patnaik who met the PM on Thursday in Delhi during his visit to the national capital, discussed various key issues of his state with the latter and requested to expedite the process.
He further requested PM Modi to extend the provision of five free connections in each gram panchayat for Bharat Net Phase II.
Patnaik also apprised the PM of a detailed project report (DPR) which was prepared for extending Bharat Net from the gram panchayats to the villages and submitted to the Department of Telecommunication and no decision on the matter has been taken so far.
"Also the DPR for converting the Bharat Net linear network to an internet protocol multi-protocol label switching ring network and extending the same to districts and state capital, submitted by the state to the telecom department has been regretted," he told PM Modi, as per the Odisha government press release.
While requesting a decision for internet protocol multi-protocol label switching, he also discussed incomplete national highways in the state. "There are as many as eight national highway projects, as per annexure, that is yet to be completed though many have started in 2017 and 2018," Patnaiak told Modi asking to expedite the process.
The leader also sought the PM's intervention in opening more bank branches in rural areas of the state.
"Department of Financial Services may put in place a two-year plan for covering all unbanked gram panchayats of the state by bank branches. However, in order to avoid inconvenience to those elderly and disabled persons who are unable to visit the bank for receiving cash, relaxation may be granted for the disbursement of pension in cash to a maximum of 20 per cent of the beneficiaries under National Social Assistance Scheme (NSAP)," Patnaik said to Modi.
However, Patnaik also ruled out the possibility of a 'third front' being formed to contest the next year's Lok Sabha elections.
The Chief Minister, who is in Delhi, was answering queries from reporters about the possibility of a third front in the 2024 Lok Sabha elections amid efforts by some leaders to bring together opposition parties. "No, as far as I am concerned. Not now," he said.
During his visit to the national capital, Patnaik met Prime Minister Narendra Modi in connection with development works related to Odisha. "I met the Prime Minister and we discussed issues related to Orissa's demand. I spoke for the International Airport that we have to set up in Puri, Bhubaneswar is getting too much traffic now that's why we want an expansion. The Prime Minister said that he will definitely help in every way possible," he said.
(ANI)