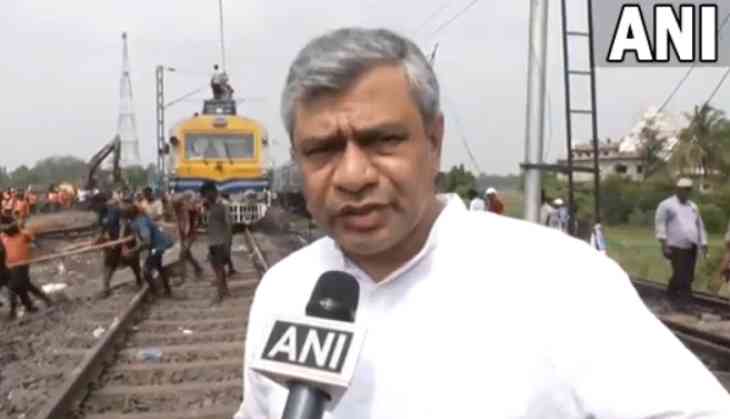 Balasore: Union Railway Minister Ashwini Vaishnaw expressed his commitment to ensuring that missing persons from the horrific triple train accident in Odisha's Balasore can be located as soon as possible.
As train services resumed on the affected section, Vaishnaw waved at a goods train's crew, praying for a safe journey.
The accident, which occurred on June 2, resulted in at least 275 casualties and over 1,000 injuries.
"Our responsibility is not over yet"
Ashwini Vaishnaw addressed reporters on Sunday night, emphasizing that the responsibility of the authorities involved in the aftermath of the train crash was far from over.
He reiterated the goal of reuniting missing individuals with their families as quickly as possible. Despite the resumption of train services, the focus remained on locating those still unaccounted for.
#WATCH | Indian Railways has started running passenger trains on the tracks which were affected due to #TrainAccident in Odisha's Balasore pic.twitter.com/E9NTCv1ieO

— ANI (@ANI) June 5, 2023
Services Resumed After Repairs
The Railway Minister highlighted the swift action taken to repair the damaged tracks and praised the team involved in the reconstruction for their diligent and systematic efforts. Both the up and down lines were reconstructed and thoroughly tested before allowing trains to pass through.
Revised Death Toll and Restoration Efforts
Odisha Chief Secretary Pradeep Jena confirmed that the death toll had been revised from 288 to 275 after the discovery of some duplicated body counts.
More than 1,000 workers were dedicated to the restoration of the damaged tracks. The Ministry of Railways deployed a significant number of resources, including over 7 Poclain Machines, two Accident Relief Trains, and several Railway and Road Cranes, to expedite the repair work.