Responding to the opposition's threats of revolt if the demonetisation scheme is not rolled back within a period of three days, Finance Minister Arun Jaitley said on 17 November that there was no question of withdrawing the government's cash clean-up drive.
Jaitley further added that ATMs are being re-calibrated on a war footing, and also commended bank employees for the relentless effort they've been putting in handling crores of rupees in the last seven days.
He also clarified that 1000 rupee notes are not going to be re-introduced anytime soon.
"[It is] unfortunate that some people were inconvenienced. Expect every political party to support this move as it will boost India's formal economy. Most CMs have used state apparatus to support this move, I appreciate that. Some CMs however are spreading panic", Jaitley said.
Earlier in the day, West Bengal Chief Minister Mamata Banerjee joined hands with Delhi Chief Minister Arvind Kejriwal to launch a scathing attack on Prime Minister Narendra Modi for his demonetisation initiative.
Asserting that the current situation is like that of an Emergency, Mamata Banerjee said: "If you have courage, send us to jail or shoot us. But we will continue fighting. We will not allow the poor to go hungry. We will continue to fight for this country. If this decision (demonetisation) is not taken back in 3 days, we will intensify our protest. Modi ji please don't mind. If secret voting's done, your own party won't vote for you, not even your family".
Also read:Mamata Banerjee asks PM Modi what's on his mind? Kejriwal calls for rollback within 3 days
On his part, Delhi Chief Minister Arvind Kejriwal asserted that the move to demonetise higher denomination notes does not serve the purpose of curbing black money.
On 16 November, however, amid the raging debate on demonetisation, Finance Minister Arun Jaitley changed his Facebook cover photo, stating that India can no longer live with black money.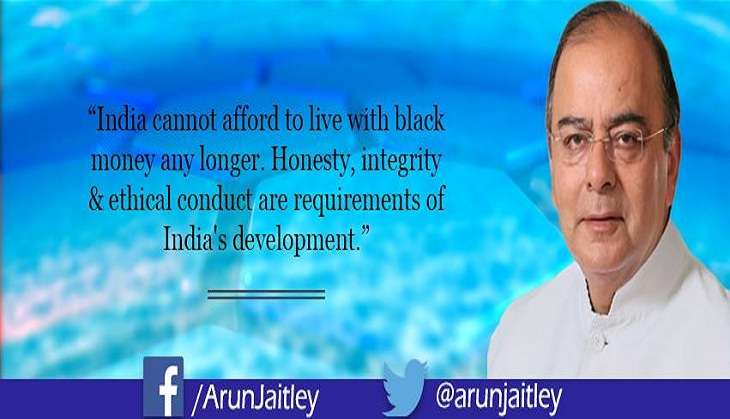 Facebook | Arun Jaitley
Integrity and ethical conduct are pre-requisites for the country's development, he said.
"India cannot afford to live with black money any longer. Honesty, integrity and ethical conduct are requirements of India's development," the Facebook cover photo read.
With opposition leaders ganging up over the demonetisation of the 500 and 1,000 rupee notes, the government has maintained that the move is aimed at eliminating black money, counterfeit notes and terror financing.
Also read:Mamata Banerjee, Shiv Sena march to Rashtrapati Bhavan in protest against demonetisation
On 8 November, Prime Minister Narendra Modi announced the demonetisation of high-value currency notes and asked holders of such notes to deposit them in banks by 30 December.
Initiating the debate on demonetisation in the Rajya Sabha, Congress leader Anand Sharma said the "ill-timed" and "ill-conceived" move had unleashed an "economic anarchy" in the country and benefited only a select few.
--With agency inputs