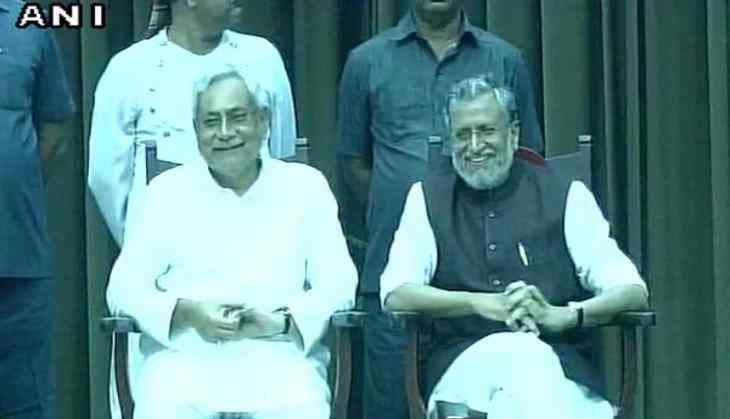 Janata Dal (United) leader Nitish Kumar, who on 27 July took oath as Bihar Chief Minister, reiterated his stand that he quit the 'grand alliance' in Bihar for the development of the state.
Bihar witnessed political upheaval soon after Nitish Kumar resigned on 26 July as Bihar Chief Minister to protest against his Deputy Tejashwi Yadav's stubbornness to stay in the Cabinet despite being named in F.I.R. over the corruption charges.
Bharatiya Janata Party (BJP) leader Sushil Modi also took oath as the Deputy Chief Minister.
While talking to media, Kumar said, "My decision is in Bihar's interest and for its development."
State's new Deputy Chief Minister said that development will be a priority for the newly formed dispensation.
"Development will be a priority, will take Bihar to greater heights," said Modi.
With the swearing-in of Nitish Kumar and Sushil Modi, the political uncertainty in Bihar that loomed in on 26 July after Kumar's resignation ended.
Bihar witnessed upheaval soon after Nitish Kumar's resignation.
Meanwhile, Kumar's former ally Rashtriya Janata Dal (RJD) cancelled its protest march to Raj Bhavan to oppose Kumar's swearing-in ceremony was cancelled due to the probationary orders.
Previously, the CBI registered a corruption case against RJD chief Lalu Yadav, his wife Rabri Devi and son Tejashwi Yadav on allegations of awarding the tender for development, maintenance and operation of hotels in Ranchi and Puri in 2006.
Since then, the BJP had been mounting pressure on Nitish to oust Tejashwi Yadav from the Cabinet, but Tejashwi Yadav remained adamant to continue in the Cabinet, and this led to the departure of JD-U and RJD led 'mahagadhbandhan' government in Bihar with Nitish's resignation.
-ANI