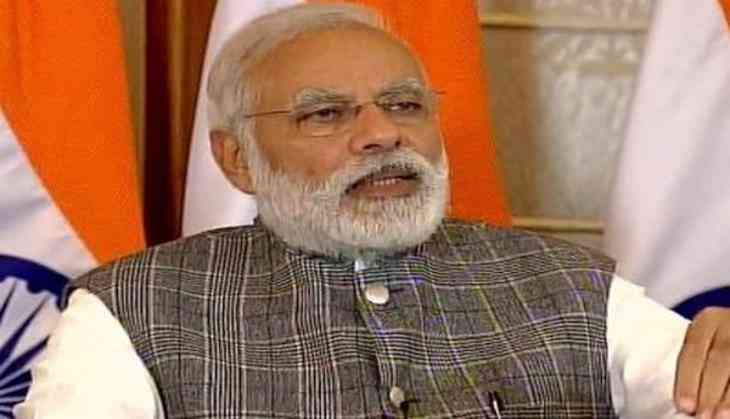 Prime Minister Narendra Modi is going to make significant changes to his Council of Ministers with the power of 4P for Progress. 4Ps are: passion + proficiency + professional & political acumen.
As a part of the restructuring, six incumbent Ministers have resigned to take on other responsibilities. Having made meaningful contributions during their tenures, all of them have been important members of the Council of Ministers. The Prime Minister has recognised and appreciated their service to the nation.
Consequently, PM Modi is to expand his Council by inducting nine new Ministers. These are: Shiv Pratap Shukla, Ashwini Kumar Choubey, Virendra Kumar (SC), Anantkumar Hegde, Raj Kumar Singh, HardeepSingh Puri, Gajendra Singh Shekhawat, Satya Pal Singh, and Alphons Kannanthanam. All the new ministers are from ruling Bharatiya Janata Party.
In continuance of his track record of identifying his fellow team members on the merit of their past Performance and future Potential, the new ministers have been selected by the Prime Minister with a clear mandate to deliver on his vision of a New India. A vision which is built on the foundations of Development and Good Governance, and with a focus on the Garib, Shoshit, Peedit and Vanchit segments of our society.
The new Ministers are going to be strategically placed in key Ministries, especially focusing on last mile delivery directly to the people.
The new Ministers come from varied walks of life, bringing in their unique professional perspective and proficiency to the Council. Many of them also bring rich administrative and governance experience.
All the Ministers are highly qualified, with a number of them having professional as well as PhD degrees.
Shiv Pratap Shukla is a Rajya Sabha MP from Uttar Pradesh. He is a Member of the Parliamentary Standing Committee on Rural Development. A Law Graduate with an LLB from Gorakhpur University, Shiv Pratap Shukla started off early in politics as a student leader in the 1970s.
Ashwini Kumar Choubey is a Lok Sabha MP from Buxar, Bihar. He is member of the Parliamentary Committee on Estimates and Standing Committee on Energy.He is also a Member of Central Silk Board.
Having faced the disastrous Kedarnath floods with his family in 2013, Ashwini Kumar Choubey has authored a book KedarnathTrasadi on the tragedy. A BSc (Hons) in Zoology, he has a special interest in Yoga.
Virendra Kumar is a Lok Sabha MP from Tikamgah, Madhya Pradesh. He has had a distinguished career in Public Service as a 6 term Lok Sabha MP. Highly qualified academically, VirendraKumar is armed with an MA in Economics and a PhD in Child Labour.
AnantkumarHegde is a Lok Sabha MP from Uttara Kannada, Karnataka. He is a Member of the Parliamentary Standing Committee on ExternalAffairs and Human Resource Development.
With a deep focus on rural India, AnantkumarHegde is the Founder President ofKadamba, an NGO working in the field of rural development, rural health, SHGs, rural marketing and other rural welfare programmes.
Raj Kumar Singh is a Lok Sabha MP from Arrah, Bihar. He is a Member of the Parliamentary Standing Committees on Health and Family Welfare, Personnel, Pensions and Public Grievances and Law & Justice. Raj Kumar Singh is a former IAS officer of the 1975 batch, Bihar cadre. He rose up the ranks to becomethe Home Secretary of India.
Hardeep Puri is a decorated former IFS officer of the 1974 batch, known forhis experience and expertise in foreign policy and national security. He is the President and Chairman of Research and Information System for Developing Countries (RIS) think tank, and was the Vice President of International Peace Institute, New York.
As Head of the Indian Delegation to the UN Security Council, HardeepPuri had served as Chairman of the Counter-Terrorism Committee of the UN as well as President of the United Nations Security Council.
An alumnus of The Hindu College, Delhi University, Hardeep Puri was a student leader and active during the JP movement. He briefly taught at St. Stephens College before joining the IFS.
Gajendra Singh Shekhawat is a Lok Sabha MP from Jodhpur, Rajasthan. He is a Member of the Parliamentary Standing Committee on Finance and Chairperson of the Fellowship Committee. As a technology-savvy, progressive farmer; Gajendra Singh Shekhawat is a role model for the rural community. He has an MPhil & MA in Philosophy from Jai Narain Vyas University, Jodhpur.
Satya Pal Singh is a Lok Sabha MP from Baghpat, Uttar Pradesh. He is a Member of the Parliamentary Standing Committee on Home Affairs and Chairperson of the Joint Committee on Offices of Profit. He is a distinguished former IPS officer of the 1980 batch, Maharashtra cadre, and has been recognized with medals like the Antrik Suraksha Sewa Padak a Special Service Medal. Born in Basauli village in Baghpat, Satya Pal Singh has a MSc and MPhil in Chemistry, MBA in Strategic Management from Australia, MA in Public.
Alphons Kannanthanam is a distinguished former IAS officer of the 1979 batch, Kerala cadre. He is also a practicing advocate. He became famous as Delhi's Demolition Man when he was Commissioner of the Delhi Development Authority, having cleared DDA areas of encroachment removing around 15,000 illegal buildings. This got him listed in Time Magazine's list of 100 Young Global Leaders in 1994. Kannanthanam retired from the IAS, to get elected as an Independent Member of Legislative Assembly for Kanjirappally in Kerala from 2006 to 2011.
The Ministers come from diverse social and economic backgrounds, as well as from across the country - stretching from Uttar Pradesh to Kerala and Karnataka; and Rajasthan to Delhi, Madhya Pradesh and Bihar.
-ANI